The Arabian Nights Heritage Village is located in Abu Dhabi, the capital of the United Arab Emirates. It was opened in 2007 as part of an initiative to enable visitors to get closer to the desert. The village is situated in Al Khatem, Al Ain and is completely cut off from civilization. The camp is completely surrounded by sand on all sides and transports guests to a simpler time when technology was still in its formative stages. The place is actually a complex mix of primitive and futuristic technology. While one will be unable to find a television in the complex, the compound uses plenty of cutting edge technology to extract water and to power the entire village.
The Arabian Nights Village is the ideal stop for tourists who want a break from the hustle and bustle of life in the city. Situated far from all the chaos of the big city, the village is a quiet haven where life goes on at a somewhat relaxed pace. Guests can try out a range of activities such as sand surfing, dune bashing, falconry and quad biking or merely spend the days swimming in the compounds cool, two hundred metre square swimming pool.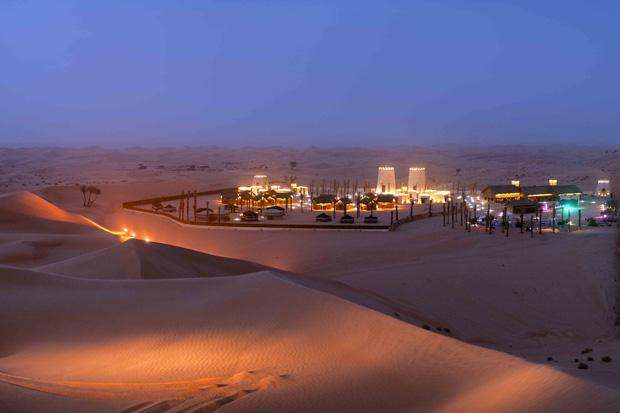 Visitors can choose between three types of accommodation: Beit Shaar, which are woven tents; Beit Al Bahr, which are huts made of palm fronds and traditionally used by local sea dwellers; and Beit Al Barr, which are mud houses. Despite the lack of technology, the lodgings are extremely comfortable.
Taking a tour of the Arabian Nights Village is quickly becoming a 'must do' activity while visiting the UAE. Those who want to experience the full majesty and splendour of the Middle East should also consider staying at the Desert Islands Resort & Spa by Anantara, which is one of the premier Abu Dhabi beach hotels.
The Abu Dhabi resort offers guests an authentic Arab experience and everything from the room decorations to the menu at the restaurant have Arab influences. At the end of their holiday guests can go home happy having enjoyed the best that the region has to offer.