Located in the trendy Tsim Sha Tsui, East Kowloon the magnificent Avenue of Stars is slotted in between a number of amazing attractions such as the Space Museum, Clock Tower, the Museum of Art and the Cultural Centre. This free walkway offers a glimpse into the great feats of Hong Kong film makers, actors and behind the scene players who generally get lost in the ebb and flow of production.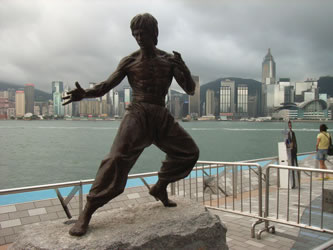 Based on the concept of the American 'Walk of Fame', the Avenue of Stars has taken it a step further by not only incorporating a plaque for each star within the industry, but also showcasing a video about the local film industry. One can also find sculptures of notable stars as well as interesting titbits about the movie industry.
Most of the living stars have their hand prints embedded on cement and their autographs attached as well! A real life statue of Bruce Lee, the charismatic kung-fu action star and the looming Hong Kong Film Awards Statuette are examples of the fascinating attractions that adorn this beautiful promenade. The easily identifiable actors would be Jackie Chan, Jet Li, Maggie Cheung, Michelle Yeoh, Bruce Lee and Chow Yun- Fat with a host of other senior names that make this "avenue" an open museum.
Created in 2004 and a crowd puller from its inception, this site brings to life the century of film making by hosting live performances, snack shops, kiosks and souvenir booths. This is framed by the breathtaking Victoria Harbour which offers a panoramic view shimmering with life especially in the nights during the "Symphony of Lights". This is a spectacular show of lights and sounds projected off of more than 40 buildings which also make up the grand Hong Kong skyline.
Wondering where to stay in this picturesque town? One can find a Hong Kong hotel in various areas of the city offering a range of accommodation options ranging from standard rooms to suites. One such convenient rest is Cosmopolitan Hotel Hong Kong, situated very close to the Hong Kong Jockey Club and within easy reach of key city attractions and shopping venues. This Hong Kong island hotel offers the very best in contemporary comforts and is an ideal base for business and leisure travellers.