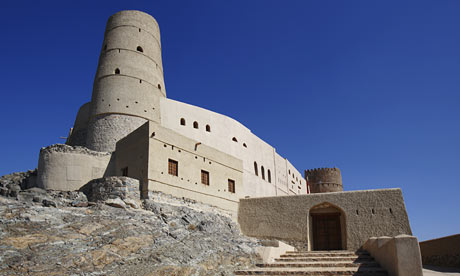 Bordering Saudi Arabia, Yemen and the United Arab Emirates, the Sultanate of Oman is becoming an increasingly popular tourist destination in the Middle East. The country is known for its beaches and its year round beach weather, although the climate maybe unbearably warm during the summer. The best time to visit Oman is during the winter when the day time temperature is only mildly warm and the night time temperature is pretty cold. There are quite a few scenic spots with rolling sand dunes, weathered mountains, and pristine oases found in all parts of the country. Oman also has plenty of cultural and historical attractions.
For history buffs Oman offers a number of castles and forts to explore. The Bahla Castle is one of the oldest castles in the country and is a tourist favourite. Located near the village of Bahla, the castle is known for its unique triangular structure. The castle actually pre-dates the arrival of Islam in the country and is architecturally different to most castles found in Oman. The aging castle has been renovated several times and a few new structures were added in 1868. Jabreen Castle is another structure that is found close to Bahla village. Built in 1670, the Jabreen Castle is in a remarkable state of preservation. Foreigners touring the area can easily fit in a visit to both castles into one day.


The forts of Al Mirani and Al Jalali are also two prominent local landmarks. Al Mirani was originally tower shaped; however, when the Portuguese invaded they razed the structure and built a new fort over the ruins (the current Al Mirani Fort). Al Jalali Fort was also constructed by the Portuguese. A museum currently operates within the fort. Tourists should also try to visit Rustaq Fort, Nizwa Fort, Jabrin Fort, Al Hazm Castle, Al Mintrab Castle and Sohar Fort.
Tourists looking for an Oman Muscat hotel that can be used as a convenient base from which to explore the country can try Millennium Resort Mussanah. This Muscat hotel is situated on the Gulf of Oman providing guests with breathtaking views of the ocean. Boasting a great location and offering excellent service it is an ideal place to stay at.