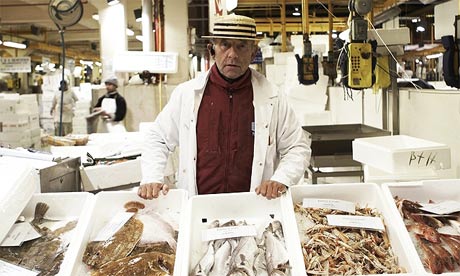 Billingsgate Market is considered to be the largest inland fish market in the United Kingdom. Most of the fish is transported directly from the coast early in the morning. This is why you will find fishmongers and buyers eagerly strolling in the market grounds as early as 4.00am eager to grab the first batch of fresh fish. The variety of fish that is brought or being shipped by neighbouring countries is amazing and gives the customer the opportunity of stepping down from routine choices to experiencing the taste of a new type of fish every day. Some of the imports include lobsters from Canada and eels from New Zealand.
The area consists of 98 stands, 02 cafes, individual cold rooms and an ice making plant which ensures that fish caught are kept fresh and clean at all times. Billingsgate Market is by law a "free and open" area and has diverse buyers such as, households, fishmongers, fish catering suppliers, café owners and restaurant owners. Tour visits for visitors are not largely entertained here but can be arranged upon a special request to the market authorities. Filming, taking photographs or publishing same is prohibited unless a request form is filled and proper permission is taken. Children under the age of 12 are not permitted on the market grounds and buyers must be cautious to wear non-slippery footwear when visiting the market. The Billingsgate Seafood training school situated in the premises helps you enrol in an educational session in recognition of fish types, tips on buying a fresh catch, knife skills, cooking and nutrition facts.
If you are a business traveller or a visitor wanting to get the best of London within a tight schedule, a Central London hotel would be the ideal place to be. With easy and fast access to many shopping destinations, parks, market places, tourist attraction points will be able to get the maximum out of the time left. The grandeur of the British lifestyle is artfully evident in any London luxury hotel. Situated conveniently in Park Lane, the Metropolitan London is a perfect accommodation venue, where you will be treated to royalty.
Pushpitha Wijesinghe is an experienced independent freelance writer. He specializes in providing a wide variety of content and articles related to the travel hospitality industry.