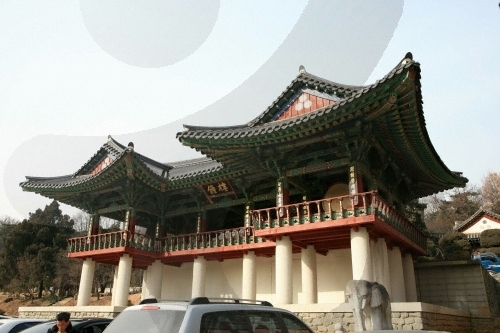 Experience the gentle hymn of wind chimes, the aroma of fresh trees, the soothing forest atmosphere, and rejuvenate your mind, body and soul at one of the oldest cultural heritages of Korea. The Bongeunsa Temple. Orininally constructed in the year 794 as Gyeonseong-sa (seeing true nature). The temple was reconstructed after it suffered damage in the year 1498 and renamed the Bongeun-sa (offering benefit). Located in the secluded hillside of Jogyesa, the Temple provides a peaceful haven amidst the hustle and bustle of the city and gives you a relaxing vibe in every corner of the temple.
Bongeunsa offers a range of Buddhist artifacts and some of the greatest insights into Buddhist history, philosophy and the evolution of the Korean language. The Daewungjeon is the main shrine that contains a wealth of Buddhist symbols and art and enshrines 3 notable Buddha statues. A historic 14th century bell can also be found on the corner of the shrine and just behind the statue one can find the finest attraction of the temple, a colossal statue of Maitree (Future) Buddha that stands at a staggering height of 23 meters was constructed with the aim of peacefully unifying the 2 Koreas. The oldest hall that stands is the Panjeopn. The richest in cultural value the Panjeon contains over 3000, 150 year old wooden blocks where unique sutras like the flower garland sutras and the diamond sutras are carved. The calligraphy on the hanging boards on the entrance of each of the halls has its own story to tell.
The temple offers a range of other activities that are open to public. On Thursdays from 2pm to 4pm, an interesting program that includes lotus lantern making, a temple tour, the dado (tea ceremony) and Zen meditation is conducted by monks and some volunteers in English, which is sure to give a true feel of the temple. If you want a more mind rejuvenating experience try the Temple stay 2 day program which is sure to give an interesting insight your soul and Buddhist practices.
Seoul in itself has a range of other leisure activities. Tour the city while staying at a
Seoul apartment
, where one can relax and enjoy an extended stay in the city. If you are looking for a
serviced apartment Seoul
has some of the finest and the Somerset Palace Seoul stands out to provide luxurious comfort and a central location. Rejuvenate in Bongensua and Enjoy Seoul from the Somerset Palace.