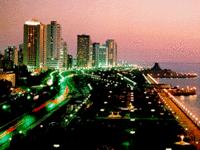 As a part of the Arab union of States, Abu Dhabi is an oil rich country encompassing a multi ethnic and multi-racial society. Prosperous due to wealth amassed through energy resources, both society and businesses thrive.

As one of the most important cities which make up the United Arab Emirates, this state is a modern enclave equipped with all facilities that ensure both the leisure and business visitors, every need is met. As a result, many expatriates have holiday homes based in this Gulf nation including large corporations whose head offices have relocated here.
Unending days of heady sunshine, pristine beaches and majestic sand dunes are attractive combinations for visiting tourists. Mosques and minarets that are masterpieces by themselves provide interesting sights. Other facilities such as super luxurious hotels, sporting facilities, duty free shopping, restaurants and cafes, souks and spas provide innumerable opportunities to enjoy the true vacation.
Major attractions of the emirate include the Al Hosn Palace, better known as the White Fort, the Cultural Foundation housing archeological antiquities of the nation and the Women's Craft Center which displays handicraft and superlative local skills of Abu Dhabi people.
A visit to Corniche should not be missed when visiting the country. This long road is celebrated for its lush picturesque beauty and becalming walkways. Extending around six kilometres, Corniche's long road includes several parks incorporating fountains and tropical scenery.
Among the many pastimes that citizens engage in, families flock to Corniche to unwind and relax. The facilities include a cycling track, open spaces for picnics, vending machines providing snacks and beverage for visitors and demarcated areas for outdoor games including beach volleyball and a children's play area.
For the water enthusiasts, swimming facilities are amply provided for. Beach umbrellas, life guards on patrol and surveillance towers are installed to make the area secure and trouble free. In addition Corniche provides changing rooms, a mosque for prayers and refreshment choices creating the perfect setting for familial meetings and simple get-togethers.

Reflecting the nation's wealth and stature, many accommodation options are ultra-luxurious and opulent. Located in the emirate are a number of Abu Dhabi resorts which belong to several international chains. An Abu Dhabi resort synonymous with untold beauty is the Desert Islands Resort & Spa by Anantara furnished with palatial splendor. Its villas and suites and other facilities will captivate visitors offering a memorable stay.