Decorated with an abundance of Buddha images and enchanting paintings; the "Rangiri Dambulu Viharaya' or 'Dambulla Rock' was built during the reign of King Vattagamini Abhaya who made frequent visits to the premise seeking refuge from South Indian invasions. Upon regaining his kingdom the king sought to transform these caves into Buddhist Temples as a token of gratitude. Housing over 80 caves in total, the complex is perhaps more renowned for 5 beautifully adorned caves that hold various statues and colourful paintings of a time that is constantly venerated by devotees and travellers.
While showcasing the life and teachings of Lord Buddha, visitors to the area will be able to marvel at the 153 Buddha statues, 4 statues of Gods and Goddesses and 2 statues of Sri Lankan Kings. A unique feature of the area is that traces of burial sites with human skeletons spanning over 2700 years have been found in Ibbankatuwa. Such evidence brings to light of the fact that prehistoric people of Sri Lanka once dwelled in these caves before the existence of Buddhism in the country.
The 1st cave is referred to as the 'Devaraja lena' or 'Cave of the Divine King' and is famous for possessing a 14 metre sleeping Buddha statue whose aura is made complete by a statue of the Buddha's most devoted pupil, Ananda at his feet and God Vishnu by his head who is believed to have used the godly powers to build the cave. The 2nd largest cave in the complex is the 'Maharaja lena' or 'Cave of the Great Kings' that has 40 seated and 16 standing statues of the Buddha. Showcasing important events of local history, the cave ceiling is dotted with paintings that date back to the 18th century where travellers are offered invaluable insights of Lord Buddha's life.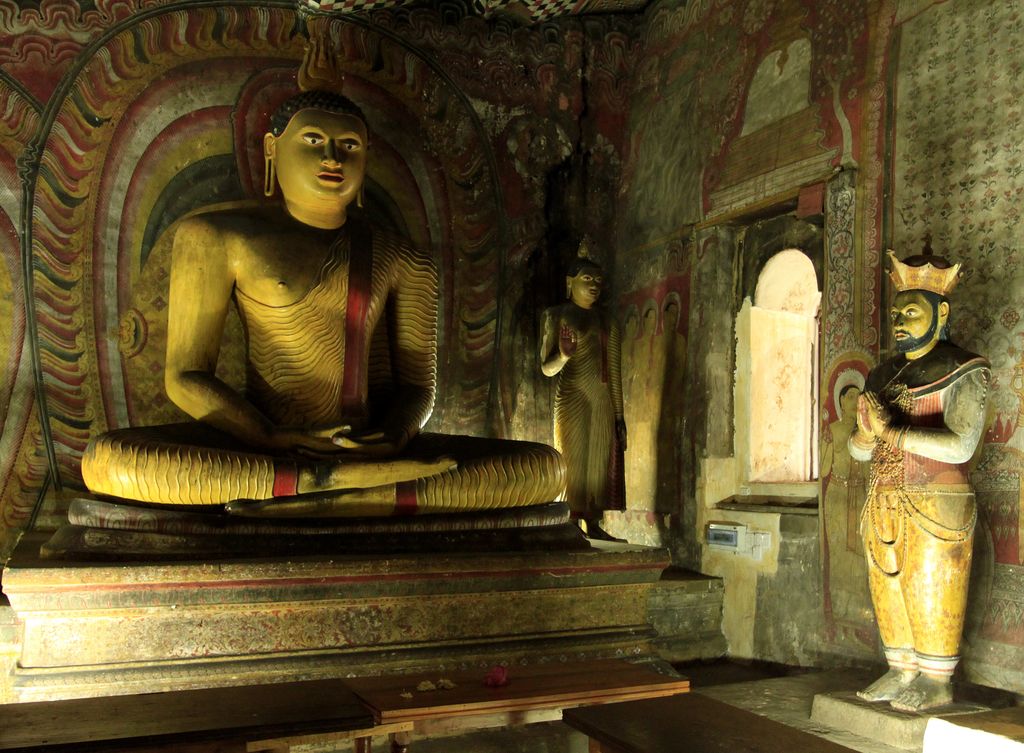 Additionally the 3rd cave of this impressive edifice is the 'Maha Alut Vihara' or 'Cave of the Great New Temple' which is an exemplary depiction of the Kandyan Kingdom. The 30 foot long reclining statue of the Buddha which has been carved out of rock is perhaps the cave's most prized possession. Decorated with fine art that resemble the style and grace of Kandy, the cave has over 50 statuettes of the Buddha and a statue of King Kirti Sri Rajasinha who was responsible for constructing the cave. The cave of the Western Temple and cave of the Second New Temple both represent the grandeur of local art and sculpture.
If you plan on visiting the site, then you must choose a hotel in Sigiriya to begin an intriguing journey back in time. Reside at the Hotel Sigiriya which is one of the hotels Sigiriya has to offer and is located in close proximity to this magnificent World Heritage Site. Vacationing in Sri Lanka? Then schedule a visit where you will be able to learn of this cultural landmark steeped in traditional symbolisms.
Chandrishan Williams is a travel writer who writes under the pen name, Caleb Falcon. He specializes in writing content based on the many exciting world adventures that await intrepid travellers. Google+