For travellers, Sri Lanka is many things; exotic, full of adventure and rich with culture. Because of this there are a wide variety of holiday experiences that can be enjoyed on the island, from those spent lazing in the sun at luxurious beach side hotels to those spent exploring awe-inspiring historical and religious sites. Travellers from all walks of life will find the island a paradise, from where they can take back amazing memories of joyous times.
When travelling down the island's popular south west coast, visitors will arrive at the city of Kalutara, the third largest in the western province. Like most other Sri Lankan cities, here too there are places of historical value, rich in culture. One such site that visitors should stop over at, is the Gangatilake Stupa, a picturesque Buddhist site.
The large white Dagoba is an icon in the city, visible from far due to its majestic stature. In addition to having been a Buddhist temple, the site was put to various uses during colonial times including being used as a fort and a residence. The eye catching white stupa was added to the site in more recent times, but is of immense value.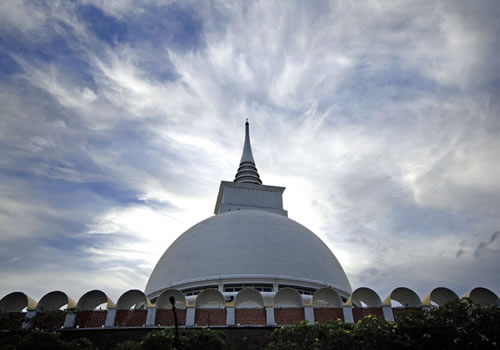 The Gangatilake Stupa is unique to those found everywhere else in the world as it is the only one that is entirely hollow. Visitors can enter the room inside and enjoy the atmosphere of sanctity and peace. On the walls here are beautiful murals that depict several stories. These stories are 'Jataka Kattha', or stories from Lord Buddha's previous births, and are interesting as they teach valuable morals. The attractive murals will amaze anyone with the privilege of seeing them, and will create memories that can be cherished for a lifetime.
Buddhism plays an important role in the culture of the island, and witnessing the various religious rituals that take place at the temple is an authentic Sri Lankan experience visitors will enjoy. Visitors will also appreciate the temple's attractive settings, and when driving by it is a tradition to drop a few rupees into donation boxes and pray for a safe journey.
When visitors planning to stay in this city are selecting beach resorts Sri Lanka Kalutara, the newly renovated Avani Kalutara Resort will be a choice much enjoyed. Fully equipped with fine comforts, quality dining and a rejuvenating spa, this hotel in Kalutara offers a truly unforgettable holiday.