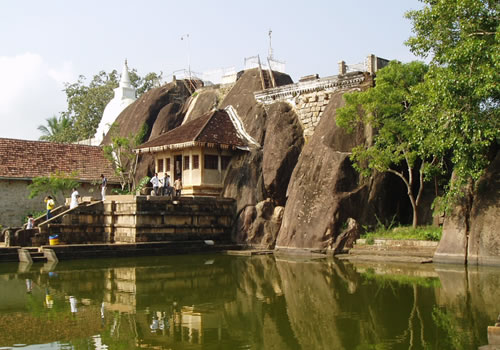 While Colombo and Kandy usually get all the attention, there are many other places in Sri Lanka worth visiting. The historic capital of Anuradhapura is one such place. Famous for the well preserved ruins of the islands ancient civilizations, the city lies about 205 kilometres north of Colombo. The city is a UNESCO World Heritage Site, and contains some of the finest examples of Sri Lankan architecture.
When visiting Anuradhapura it is impossible to miss the Isurumuniuya Rock Temple. The Buddhist Temple is located near Tisaweva (Tisa tank). The temple was built by King Devanampiyathissa, as a domicile for 500 children of high caste birth who were ordained as monks. The temple is amidst beautiful surroundings- a pond lies next to the temple and is bordered by rocks containing intricate carvings of elephants bathing. A sculpture of a horse's head can be seen above the carvings, along with a statue of the Buddha hewn out of rock. A museum on the temple premises contains more historic artefacts.
Visitors will also find the engravings of the 'Isurumuni Lovers' at the temple. The identities of the lovers are subject to debate, but it is popularly believed that they depict Saliya, the son of Dutugemunu, and Asoka Mala, a member of the Chandala caste. The Chandala caste was considered the lowest in the caste hierarchy system practised at the time, but this did not deter the prince from marrying her, giving up his throne to do so. The figure in the middle is thought to be King Dutugemunu, who gave his blessings to the young couple.
Travellers can get to Anuradhapura by bus or train. However, the public transport system is Sri Lanka is not always reliable (especially along lesser travelled routes) and although there are plenty of buses to Anuradhapura the ride may not be very comfortable. Sri Lanka car hire services provide a convenient way in which to explore the island. Malkey Rent A Car is a Sri Lanka car rental company that caters to a variety of budgets. Tourists can hire everything from basic to luxury cars, as well as buses, vans and four wheel drives. The vehicles can be rented with or without a driver, and is sure to cut down on travel time.