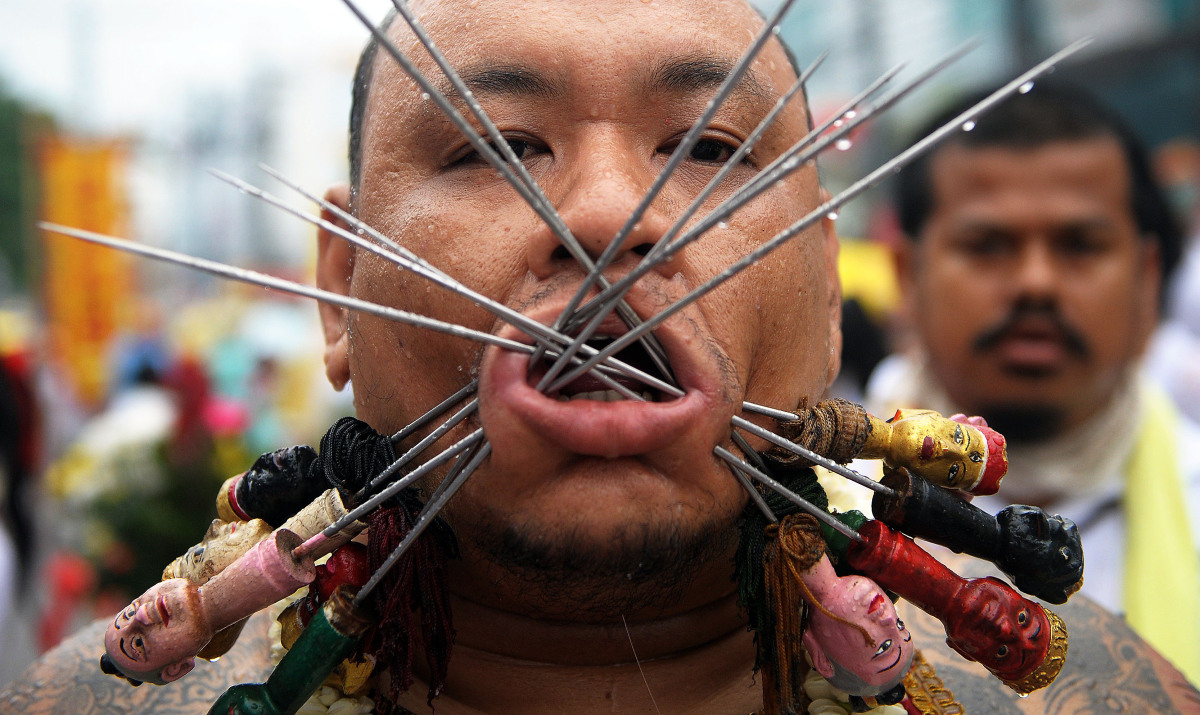 Known across the length and breadth of Thailand for its annual vegetarian festival, the Jui Tui Srhine is one of the most ostentatious and glitzy Chinese temples in the region. Its significant presence in the township of Phuket makes it a popular tourist attraction, in addition to being a hallowed place amongst its followers.
The temple occupies a grand piece of land just off one of the main roadways in Phuket; and, needless to say, there are plenty of public vehicles that ply down the road carrying the bus loads of devotees. The Jui Tui Shrine was originally located in Phuket's iconic Old Town district during its heyday, but a fire that unfortunately erupted at the premises necessitated the move. Even the present building has been renovated and redesigned several times over by the devout followers. To enter the temple building, one must walk down a long pathway that is flanked on either side by large red lanterns and red flags. The foyer itself is large, colourful, and bold with a typical Chinese tilted roof above.
The main deity is Tean Hu Huan Soy, a god who is said to preside over the performing arts. The temple is effectively a tribute to this deity who advocates dance, music, and performances; hence, the ornate exterior and interior, the strong fragrance of incense sticks and the many celebrations that take place within the shrine. Tean Hu Huan Soy is a locally cherished name; may it be someone's birthday, anniversary or even a wedding, some or all of the festivities are carried out at the temple. Similarly during times of sorrow, parting and death family members flock to the temple to find solace, wish for better times, and a peaceful time of rest for the dead.
From any Phuket resort it is just a matter of hopping onto a bus and taking a short ride, enjoying the scenery, and then basking in the holy celebrations that unfold in glamour and glory at the temple. However, there are times of peace and tranquility within the sacred interiors, and a Phuket beach resort is as quiet as the Jui Tui shrine, affording the ideal space for contemplation and relaxation. During the vegetarian feast, the temple's vibrant food stalls can easily compete with the marvelous spread laid by even the finest hotels such as Anantara Phuket Resort Thailand which expertly blends local and international flavours to satiate any palate.
Angela Fernando is an impassioned travel writer who composes pieces under the pen name Sumaira Narayan. She loves writing about new and exciting places around the world and hopes to visit them all someday.