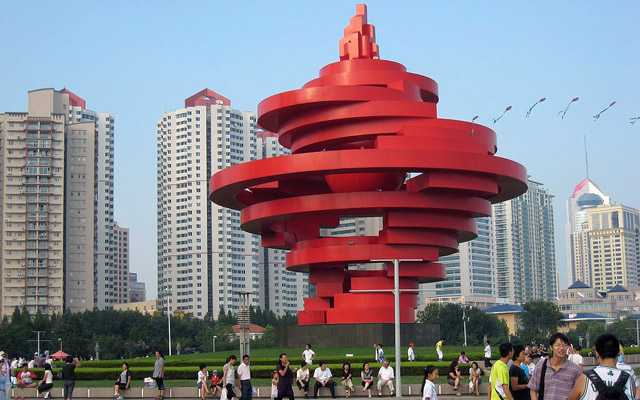 Eye catching, unique and arousing interest of all who pass by it, May 4th Square is a location in Qinqdao that is instantly recognisable to all who pass it. The square was named after the May Fourth Movement which was a student cultural and political movement that took a strong anti-imperialist outlook.
The entire movement was spurred to life by a weak stance of the government at the time on the infamous Treaty of Versailles. Under treaty stipulations German occupied land in Shandong was to be handed over to Japan rather than back to China. This consequently stirred strong nationalist feelings amongst Chinese students that led to such protests erupting nationwide. The square was constructed in order to commemorate the protests of the students which spurred a nationwide protest.
The most iconic part of the square is "May Wind" or Wuyue Feng which is a special sculpture that was constructed to mark this historic event. This sculpture is situated right in the heart of the square and when viewing the entire scene from a distance it is impossible to miss this monument as it stands glaringly out from the cityscape that lies behind it.
May 4th Square is also an ideal location from which to embark on a scenic walk of Qingdao which will start you off from the boardwalk before venturing in to the rest of the city. On days with pleasant weather, the square is filled with people including couples and families. Flying kites in the square is an activity that has proved very popular especially amongst children.
Copthorne Hotel Qingdao presents travellers with an ideal location right in the heart of the city and the central business district. Guests of this Qinqdao hotel will also enjoy a comprehensive array of amenities that will ensure your travel to the city will be a pleasant one.