The MIRAJ Islamic Centre's fabulous collection of classical and contemporary Islamic art and lifestyles, presented through myriad objects, showcase the intermingling of rich cultures in Central and West Asia across 13 centuries. The objects sourced from all over the Islamic world and even beyond are presented in a museum-like setting. This private initiative to promote Islamic art is part of the Abu Dhabi Government's cultural policy to develop the city as a culture hub.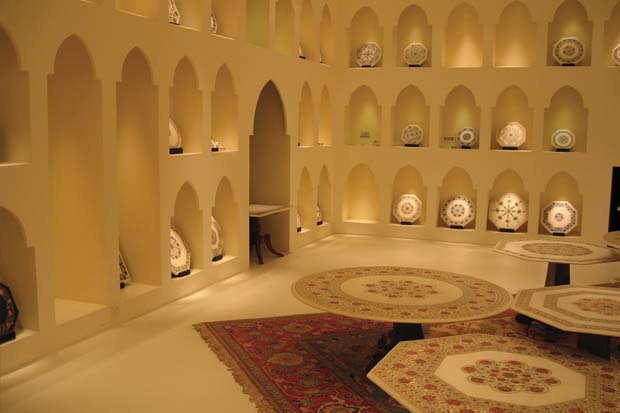 The centre's collection is organized into groups that represent Silver objects, jewellery, bejeweled and silk carpets and tapestries, papier-mâché, engraved metal, zardosi, shawls and silk fabrics, Voltaire time pieces, marble, object d'art and calligraphy. Silver played an important role in Islamic culture as it was seen as a fine investment. The centre's collection of exquisite silverware and jewellery set with precious and semi-precious stones amply illustrate the ancient obsession with the metal. The jewellery collection presents some excellent antique pieces as well as several items based on contemporary designs that simply take your breath away. The fabulous collection of bejeweled and silk carpet portraits, and tapestries featuring hunting scenes display the extraordinary skill of the artisans.
Prominent among the engraved metal objects are jewel-encrusted, finely wrought weapons that used special smelting techniques, shields, helmets and armour as well as exquisitely wrought bronze and copper tableware and samovars. Other pieces of interest are various forms of calligraphy on a range of surfaces, several marble objects with inlays of precious and semi precious stones, and gold and mirrors forming beautifully evocative floral designs. Silk shawls and fabrics from Kashmir with intricate embroidery and gold and silver embellishments or zardozi are wonderful examples of the weaver's art. A line of hand-painted and lavishly embroidered contemporary clothing presented alongside manages to artfully captivate the eye. A collection of beautifully crafted Voltaire time pieces add an interesting touch. Ancient astrolabes, contemporary paintings, delicate miniatures, object d'art, and gilded and vibrantly coloured papier-mâché objects primarily from Kashmir are the other interesting parts of the collection at the MIRAJ Islamic Centre. The centre's staff is on hand to explain the history, background and techniques used in producing the objects on display. The collection at MIRAJ Islamic Centre amply demonstrates the vibrancy, diversity, and complexity of the arts across the Islamic world.
Enjoy the rustic charm of the Anantara Sir Bani Yas Island Al Yamm Villa Resort right on the beach, with lovely ocean views and miles of sandy beach to call your own. As one of premier resorts Abu Dhabi has to offer, guests are offered a beautiful location and wonderful swimming and snorkeling opportunities as well as easy access to adrenaline-pumping activity in the other developments on the island. Stay at these stylish Abu Dhabi villas to enjoy a selection of villas and pool villas that provide the comfort and serene ambience needed for a relaxing getaway.
Pushpitha Wijesinghe is an experienced independent freelance writer. He specializes in providing a wide variety of content and articles related to the travel hospitality industry.