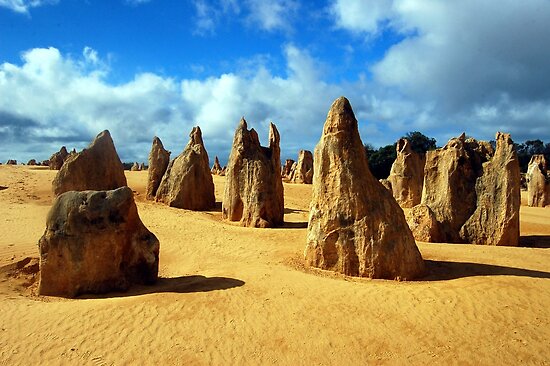 The Nambung National Park is one of the most captivating and enthralling places that you can visit in Western Australia. Home to a unique landscape of rocky formations, the Park is situated approximately a three hour drive away from the bustling city of Perth. The Park features the famous Pinnacles Desert where thousands of tall formations that are made of limestone stand majestically amid a picturesque desert area. Ideal to visit for an exciting day of fun and adventure, the site also features a wide variety of plant and animal life. Get ready for a memorable outing when visiting the Nambung National Park!
The main attraction of the Park is the Pinnacles Desert with its artistic natural limestone formations and varying shades of yellow desert sand. Some of these formations reach a spectacular height of 5 meters and is an amazing sight to behold. The formations differ in shape from tombstone like structures to rough jagged columns that rise from the desert floor. It is believed that much of these limestone creations have been in existence for countless of years having resulted from broken bits of seashells turning into sand that was later eroded and shaped by the natural elements. The Pinnacles Desert can be explored either by foot or by vehicle.
The Nambung National Park also features interesting flora and fauna. Various types of native plants are found here, whilst bright and colourful flowers dot its interior. Some of the animals and birds that can be spotted onsite include honey possums, western grey kangaroos, brush wallabies, snakes, emus and white tailed black cockatoos. Additionally, secluded beach areas perfect for activities such as swimming, fishing and barbequing are also located in the Park. One such popular area is the Hangover Bay.
Book an apartment at the Somerset St Georges Terrace Perth for a pleasant and relaxing stay in the city. This elegant Perth Apartment Accommodation is ideal for the discerning traveller visiting the city. The residence features contemporary and stylish Perth Serviced Apartments that are located in the heart of Perth's business district and is within walking distance from many restaurants, entertainment spots and cultural attractions.