The National Stadium in Maldives bears the address of Majeedee Magu and its sports ground is found in the east part of the island and towards the New Harbour. This huge well built stadium goes by the name of Galolhu National Stadium and can comfortably accommodate about 11, 850 spectators within its spacious locations with comfortable seating facilities.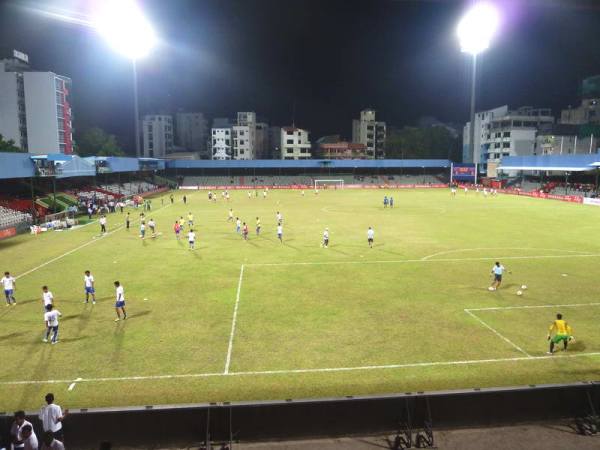 The grounds are well known for hosting several famous football games of both international as well as national calibre, football being quite a popular sport in Maldives. This multipurpose stadium holds a well manicured ground to accommodate football, while it also holds space for various casual games which are held on a less official capacity. It is mostly known for being the official venue for the Dhivehi League, FAM cup as well as international games.
The stadium and its sports ground is capable of hosting even night events and tournaments as it holds adequate night lighting facilities. It is indeed especially beneficial for the football tournaments. As the sole venue that can accommodate a sporting event of this magnitude and capacity of spectators, this is the stadium that is considered first and foremost when any international outdoor event is scheduled to be held in Male.
Because of its name and fame as a holiday destination there is no shortage of impressive and world class accommodation in Maldives. Most of these resorts and holiday houses take maximum advantage of the coastal location and offer beach villas, each with its own private pool, cabin, sundeck and most often a ravishing view of the ocean or sometimes even the lush scenery of the inlands. Anantara Dhigu Maldives has a cluster of luxurious villas from sunset beach villas to over the water villas that each has its own set of conveniences letting you enjoy seclusion away from the world. This Maldives resort does its part well in living up to the dreamy vacation that one conjures up of when planning to spend some quality time in these beautiful sun drenched islands. It also gives you a chance to enjoy the very best this island paradise has to offer and is well suited for a family holiday or a romantic getaway amidst the sun, sand and surf.
Chandrishan Williams is a travel writer who writes under the pen name, Caleb Falcon. He specializes in writing content based on the many exciting world adventures that await intrepid travellers.