Nijo Castle is an architectural masterpiece that is a throwback to Japan's prosperous Edo period, which spanned almost 250 years from 1603 to 1867. It was commissioned by the first shogun of the era, Tokugawa Leyasu, and was completed in 1603. Leyasu's grandson Lemitsu expanded the castle's palace complex 23 years later, and also added a magnificent castle keep that extended five stories. 1867 marked the end of the Tokugawa administration, and Nijo Castle was used as an imperial palace before being donated to the city of Kyoto, and then it was opened as a historic site. Its impressive buildings stand as stellar architectural examples hearkening back to Japan's feudal era, and it was designated as a UNESCO World Heritage Site in 1994.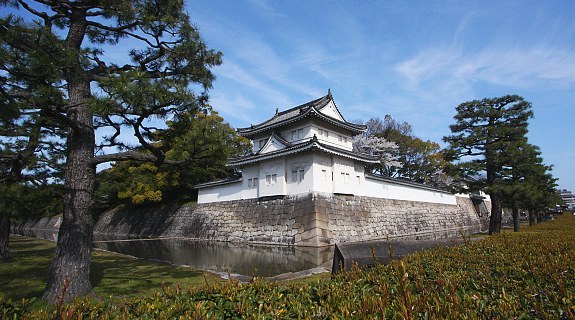 The layout of Nijo Castle is divided into three distinct areas, each of which offers a fascinating glimpse into the site's impressive history that spanned two and a half centuries. Honmaru is the primary circle of defence (bear in mind that this magnificent complex was designed by strategic military rulers), which surrounds Ninomaru, functioning as the second circle of defence. The site also features some exquisite landscaped gardens. Stone walls and moats encircle the entire complex, providing an additional measure of defence.
The castle is entered through the east gate and a short walk will bring you to Karamon Gate, bearing a distinct Chinese style of architecture, which is the entrance to the majestic Ninomaru Palace, the official dwelling of the shogun during his visits to Kyoto. It still retains its original structure, which comprises a multitude of separate buildings connected through corridors that bear the unique "nightingale floors", designed to squeak whenever someone steps on them, an added security measure against would-be invaders. Mat-covered palace rooms feature elaborately decorated ceilings and sliding doors that are intricately painted. The Honmaru section of the castle complex housed a five-story keep and palace, but both were destroyed by a fire in the 18th century and never rebuilt. After the end of the Edo period, an imperial residence was moved to Honmaru, which now functions as Honmaru Palace.
Visitors who venture outside the palaces proper will encounter some scenic landscaped gardens decorated with beautiful pine trees, an expansive pond and gorgeous ornamental stones designed to please the eye. Various walking paths surround the two palace complexes and the site is a visual wonderland to behold, especially during the months of March and April which is when the cherry trees, numbering more than 400, bloom in a vibrant explosion of colour. Visitors will also enjoy strolling through the plum orchard, especially during the peak blooming season of late February-early March. Gingko, Maple and a variety of other trees dot the verdant grounds that burst into hues of copper and gold during fall season, especially in the month of November.
Visitors seeking equally palatial Kyoto accommodation in the heart of the city would not go wrong with a stay at Citadines Karasuma-Gojo Kyoto. Featuring a choice central location and world-class facilities, these Kyoto serviced apartments offer a luxury option for discerning travellers to Japan.
Chandrishan Williams is a travel writer who writes under the pen name, Caleb Falcon. He specializes in writing content based on the many exciting world adventures that await intrepid travellers. Google+