The beautiful little island of Nusa Lembongan, situated south east of Bali, Indonesia is a tropical beach paradise in its truest form. The word 'Nusa' means 'Island' in Balinese and this unspoiled sandy haven lies just a few kilometres Southeast of Bali. Although tiny in size, with only about 8 square kilometres of total landmass, Nusa Lembongan boasts of some of the most secluded and picturesque beaches in Bali.
A traveller can follow the picturesque coastal paths which wind lazily all around the island and savour the absolute serenity which is a world apart from the speed and congestion in the main beaches one would encounter in the area. Enjoy sunbathing or slip into a hammock under the waving palms with a cold beer and let the cool breeze ease your worries away. The island has the same temperate climate as mainland Bali, thus swimming and surfing are very popular among the more adventurous visitors to the area. Under the clear blue waters off its coast, scuba divers can explore pristine coral reefs which contain a variety of marine life. All scuba diving equipment can be rented on the island itself. Another popular tourist attraction is the sea weed farms which operate in some areas along the coast. The highlight of visiting this island, however, lies in its absolutely relaxed atmosphere. Only a few vehicles, if at all, will ever cross paths with a traveller, making it a perfect destination for the world weary pilgrim in search of serenity and solace.
Want to indulge in the magical ambiance that Bali has to offer you? Try the wide range of Bali hotel venues available to choose from to suite your budgets. The picture perfect locations around the island are the background for many luxury Bali hotels and will surely fill up your photo album with just one visit. Pamper yourself to an exhilarating stay at the Anantara Seminyak Bali which is a luxury hotel complete with 59 suites, 1 penthouse and an excellent spa therapy. This is one of the best hotels in the luxury category and will grant you contentment all round.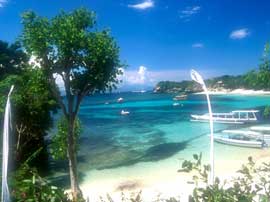 Pushpitha Wijesinghe is an experienced independent freelance writer. He specializes in providing a wide variety of content and articles related to the travel hospitality industry. Google+