Located on the 74th floor of the stunning Etihad Tower's Complex is the Observation Deck at 300. The deck is open seven days of the week from 10am to 6pm so you can always squeeze it into your travel itinerary when in Abu Dhabi. Guests are taken via escalator to the highest vantage point, when you reach the deck you are actually 300m in the air. It is beautifully decorated with an elegant touch. The floors are a shiny greyish black marble, the interior is polished wood, beige cushion chairs and sofas with glass tables.
For a closer look at the building and the surrounding islands check out the viewing stands close to the glass panels. It is definitely worth checking out the different architectural styles in the cityscape. Abu Dhabi is famous for its skyscrapers and architectural specialists have often been hired to construct eco-friendly building. In addition to this the shapes and sizes of these structures are quite interesting too. The view of the sunset is beautiful; you can see the light sinking right into the gulf waters and the lights of the building immediately illuminate the metropolis.
The best way to enjoy your outing is to book a table at the deck. The restaurant serves mocktails, high tea, hor d'oeuvres and light snacks. Entrance for visitors does not cost much, and can be redeemed as food and beverage vouchers at the restaurants on the deck. The staff at the deck are very friendly and you should definitely opt for having tea at one of the restaurants. They have some delicious sandwiches available. The best time for pictures of the cityscape is in the morning or late afternoon. In the night it is difficult to capture the city lights because the reflection of lights from the inside blurs the images. However, the sight is one worth capturing with your eyes.
For those who want to visit the deck and also explore the major attractions in the city the best option is a hotel in Abu Dhabi. Those searching for luxurious accommodation Abu Dhabi has to offer can consider Eastern Mangroves, Abu Dhabi which offers the very best in contemporary comforts as well.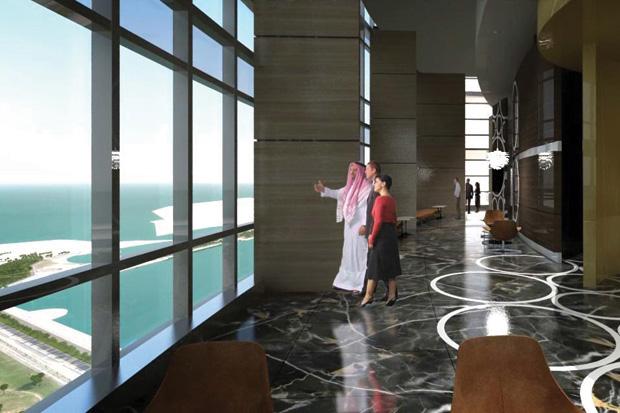 Chandrishan Williams is a travel writer who writes under the pen name, Caleb Falcon. He specializes in writing content based on the many exciting world adventures that await intrepid travellers.