PlearnWan is an old time Thai village. It is well known for its environmentally friendly life style. It recycles paper wraps and containers which have become one of its major attractions to visitors. Entering Hua Hin is like walking through an exclusive wooden gateway and its feeling is almost as if you were taking steps back in to time.
PlearnWan in Hua Hun district of Prachuap Khiri Khan Province offer visitors every imaginable good a tourist may wish to purchase. These include clothes in special clothes boutiques, food stalls, massage centres, beauty salons, jewellery shops, restaurants, record stores and many other places of interest. All of these options have a flavour of the past, which the visitors pleasantly absorb.
Visitors can also enjoy live bands performing, PlearnWan coffee prepared in the old fashioned method and other beverages, which are there to be savoured to make you relax and enjoy yourself.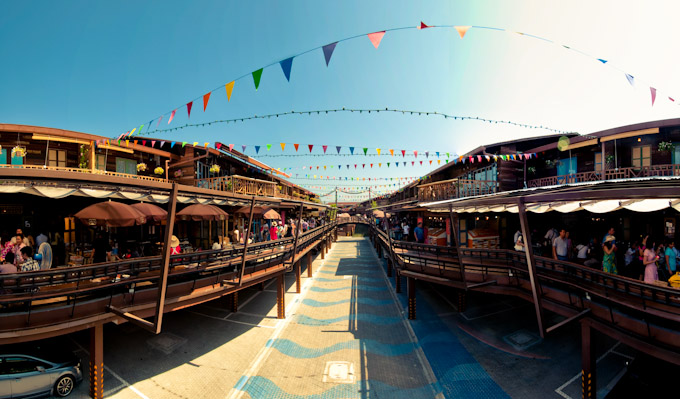 The Chai Lai (pretty) boutique gives you a feeling of old times, which adds to its charm. Khanom (snacks) are available and shops sell plastic toys. The snacks here are made to fine Thai style with delicious ingredients and spices, these are a must when you head down to Hua Hin.
Another event that is considered a prestigious recreational activity in these parts of the country is the traditional temple fair held at Ngaan Wat. Here travellers can find many stalls and a giant ferris wheel, where much fun can be expected. What is more, the fair is also home to an open air cinema where free movies are screened. Some of these movies include the latest blockbusters that are sure to keep you indulged. Comedies thrillers and romance flicks can be viewed on Fridays and Sundays and are very popular with the visitors to PlearnWan Hua Hin.
Hua Hin is also famous for many attractions and some of these places include the breathtaking Hua Hin Beach, the Takiap Hill, the Hin Lek Fai Hill, the Spirit Houses, the Nightly Street Market and the Wat Huay Mongkol. Travellers can also seek out the ever so beautiful Hua Hin Hill Vineyard and enjoy wine tasting and gorgeous views of the surrounding lush landscapes.
Hua Hin resorts are the perfect accommodation getaways you are looking for and a recommended choice is the Anantara Hua Hin, Thailand hotel, this elegant lodging option is among the finest Hua Hin hotels the city offers and the facilities coupled with friendly services is regarded highly.