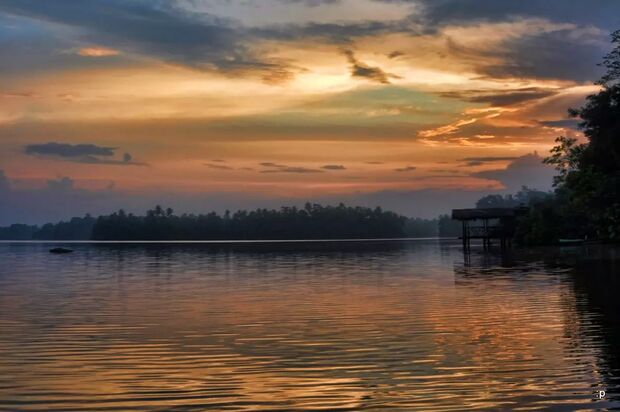 Ratgama Lake is a large salt water lagoon in Dodanduwa, Sri Lanka, located roughly two kilometres inland from the coast. The lake is known for its large population of aquatic birds, and even houses a sizeable population of water monitors and mongooses. Bird lovers will enjoy visiting Ratgama Lake and trying to spot the various species of avian fauna. One will be able to find egrets, cormorants, and night heron. While there are a few kite surfing spots in the area, they are not as popular as ones found at places such as Unawatuna beach or Ambalangoda beach.
There are three islands situated in the lagoon. Of the three, Polgasduwa is the most popular. The island contains a large Buddhist monastery. Shrouded in jungle, the monastery was founded in 1911 by the Venerable Nyanatiloka Mahathera. It is a place where monks can meditate and study. Due to its location, the islands can be quite warm and humid. Those interested can make a trip around the lagoon on a traditional Sri Lankan catamaran. The best time for the boat ride is late in the afternoon as that is when the local wildlife is most active, so do keep an eye out for birds, lizards and monkeys.
Ratgama Lake is about one hundred and five kilometres from Colombo the capital but is only twelve kilometres from Galle. The lake is in close proximity to Hikkaduwa which has quite a number of interesting sights. Hikkaduwa, which is a famous beach party spot, has an active nightlife scene, and is home to some of the best scuba diving and surfing spots on the island. While staying at Hikkaduwa, tourists can spend the day lounging on the beach, letting all their troubles and worries melt away. At night they can drink, dance and make merry at some of the best bars in Sri Lanka.
Tourists who plan on spending their vacation in Sri Lanka next to the beach should get accommodation at a Hikkaduwa Hotel. There are a number of Beach Hotels in Sri Lanka, but those who want luxury accommodation should try a place like the Chaaya Tranz Hikkaduwa. The hotel mirrors the city's pulsating energy, ensuring that guests are treated to the best that Hikkaduwa has to offer.