The Saphan Sarasin Bridge is located in Phuket, Thailand. It is the first bridge that was built to link the island to the mainland of Phang Nga province in 1967. The structure which is named after a Thai Chinese politician is well over 600 metres in length and it was constructed because there was only a ferry that connected the island to the mainland at the time.
Phuket is a highly touristic destination and is one of the number one choices for many people who travel to Thailand. The tourism development in the island increased road traffic which compelled the government to build a new and larger structure next to the old one. Since the Sarasin Bridge is one of the best attractions in the island, it was transformed to a pedestrian bridge in 2011.
One of the interesting things about the structure is that the platform is created so that you can enjoy two different cities at once. Onto the west side of the site you will see the Andaman Sea while to your east the fishing villages and Phang Nga Bay come to sight. The old Sarasin Bridge is ideal for a long stroll in the evenings; you can see the sunset while the soft salty breeze touches your skin. This is quite a popular place for locals and foreigners alike and you can even enjoy some snacks at the local food stands on the promenade.
After the sun goes down anglers set up their equipment to catch fish from the water flowing beneath the bridge. There is various food outlets set up on either side of the walkway from Thai snacks and drinks to complete meals to enjoy a good dinner. There is much to see, do and experience in Phuket and the Sarasin Bridge is only one of them.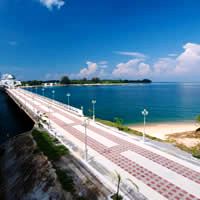 If you are planning a trip to Thailand make sure to include Phuket in your itinerary. Staying at a Phuket resort such as Millennium Resort Patong Phuket is a great way to enjoy your holiday. This luxurious hotel will not only make you feel at home but will be a great place for you to enjoy your holiday at a Patong beach resort.
Chandrishan Williams is a travel writer who writes under the pen name, Caleb Falcon. He specializes in writing content based on the many exciting world adventures that await intrepid travellers. Google+