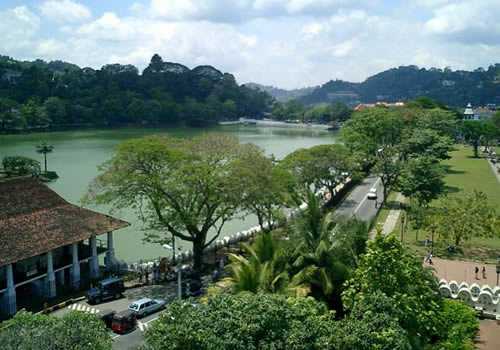 Set in the Indian Ocean, Sri Lanka has often been called the pearl of the Indian Ocean, the isle of plenty and even a small miracle. These names reflect the diversity of destinations available within one country capable of catering to every whim and fancy of every traveller.
A tour of Sri Lanka is grossly incomplete without visiting Kandy, the last independent kingdom in the island until it was ceded to the British in 1815. With its splendid location in the heart of the tea clad hills next to the Kandy Lake, the town is of iconic beauty. Kandy's mystic enchantment makes it one of the best places to visit in order to witness the unique culture, religion and breathtaking beauty of Sri Lanka. 
In terms of culture and religion, one of the main highlights is the Dalada Maligawa i.e. the Temple of the Tooth, which attracts a large number of pilgrims who come to worship one of the most venerated Buddhist shrines in the country. If one is in the country during July and August, an effort to go see the Esela Perahera, a magnificent pageant unlike any other, will definitely be worthwhile.
If one is more historically inclined, the Kandy Museum displays heirlooms, artefacts and jewellery of the Kandyan Royals as well as historic documents that rewrote Ceylon's history such as the Kandyan Convention in 1815. However, if leisure is the objective of your holiday, a stroll around the Nuwara Wewa is recommended for it is a very peaceful and relaxing walk. In addition, a visit to the Royal Botanical Gardens in the outskirts of Kandy is also an ideal option for it is a peaceful retreat away from the busy streets.
Therefore,
tours to Sri Lanka
must include a visit to Kandy and accommodation in the city is varied ensuring a fit for all budgets. For
luxury holidays
, Kandy is an idyllic choice to stay and experience the beauty and diversity Sri Lanka has to offer. If one wishes to travel to specific destinations but is unsure as to how to arrange it, Paradise Vacations is an ideal solution as they offer a variety of packages to suit different budgets and ensure that you have a smooth and enjoyable stay in Sri Lanka.