Occupying pride of place in the hearts of Emiratis and the country at large Abu Dhabi's captivating Heritage Village is a one of a kind attraction with a historic and cultural significance. Exploring life in the country's desert landscapes during the Bedouin period in Abu Dhabi's history the living museum of sorts offers visitors a unique glimpse of everyday life in the era. Often described as a journey back in time the Heritage Village recreates the structural, cultural and commercial elements of a traditional Bedouin village in a larger than life compound spread out over 1600m2. Ideally located close to the Breakwater with breathtaking views across the Corniche the Heritage Village is managed by the Emirates Heritage Club and encompasses a wide range of attractions and activities.
Surrounded by water fountains and rolling lawns the natural environment within the village is calming as well as breathtaking. Visitors are advised to visit the venue prior to 5pm as the displays and showcases will close thereafter. One of the locale's main highlights is of course is its artisan stalls. Allowing visitors to observe how utensils such pottery, glass, weaved baskets and even leather was manufactured in prehistoric Abu Dhabi the stalls serve as live demonstrations of folk art forms. A small souk or market place is also located within the Heritage Village and is littered with souvenirs and other handicrafts made in the venue. Visitors can purchase items at bargain prices at the thoroughfare which serves as a reminder of quaint markets set up by Bedouin communities in days of yore. The market's spice shop is a big hit with travelers as a delectable range of aromatic spices, herbs and even handmade soaps and beauty care items are found at the location. Other intriguing points of interest include a traditional campfire surrounded by coffee containers and a tent made of goat's hair while a demonstration of a falaj irrigation network is also on-site.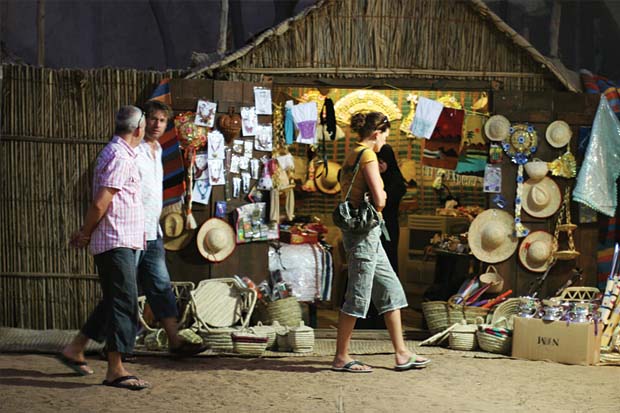 Exhibition showcases featuring ancient photographs, relics and other remnants of life before the discovery of oil in the country can be found at the Heritage Village's museum space which explores the socio-economic aspects of Abu Dhabi's past. Dining facilities are also available at the Village courtesy of its very own Arabic themed restaurant.
Travellers on the lookout for five star Abu Dhabi hotels should look no further than the Qasr Al Sarab Desert Resort by Anantara. Providing guests with the best in contemporary amenities it is no surprise this stylish rest is ranked among the best luxury hotels Abu Dhabi has on offer.
Thanuja Silva is a travel writer who writes under the pen name Auburn Silver. She has a passion for fashion and a deep interest in admiring new and exotic attractions around the world. Google+