Maldives is doubtless one of the greatest holiday destinations and hidden safely within is there a place called Naladhu. This is an amazing opportunity to get on an alluringly gorgeous island where privacy and the services offered are the crown jewels. Visit the Sultan's Park Museum while you're there and be amazed by the historic beauty you behold.
Located at the Sultan's Park in Male the museum is surrounded by its beauty. The building was formerly the Maldivian Royal Palace that was transformed into a majestic museum in the 1700s and the palace grounds surrounding it is what is called the Sultan Park now. Parallel to the old building a new one was erected and was officially opened to the public on Maldives' Independence Day on 26th July 2010. A rich combination of culture of history is preserved behind these walls that include important artifacts dating way back into the very depths of the history of this magnificent land.
One incredible feature of this museum is that the walls are engraved with a handwritten rendition of the holy Qur'an. Artefacts from the pre-Islamic period like costumes, shoes, armour, royal furniture, thrones and other ornaments and garments worn by kings and queens, paper and cloth manuscripts, stone items and many more adorn the museum retelling the gripping history of Maldives with added vigour.
A few noteworthy attractions include a six-faced coral statue, a huge bust of Buddha and a charming collection of limestone and coral statues. After an enriching experience, take a leisurely stroll around the park and appreciate the sheer beauty of the vibrant flora that will captivate you.
Complete this experience with a stay at Naladhu Maldives which will transport you into a private haven of your own- surrounded by the azure sea, calming sea breeze, golden beaches and spectacular sunsets and luxury like no other. The services you will receive are impeccable and so will be the dining experience.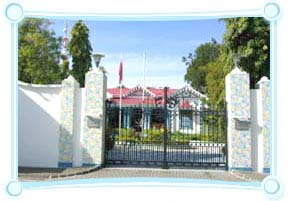 Stop thinking and start packing. Head over to the best Maldives hotel that you can find and visit Sultan Park's Museum. Naladhu Maldives is paradise on Earth and tops the list of Maldives island resorts.
Jayani Senanayake is a writer who dabbles in travel and all things exotic. Under the pseudonym of Caliope Sage, she writes of the allures that must simply be discovered.