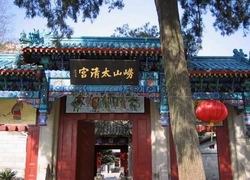 Revered as a sacred Taoist place of worship, Taiqing Palace is situated in the pleasant environment of Qingdao's renowned Mt. Laoshan. The Taiqing Palace is undoubtedly the biggest building surviving on the mountain and lays claim to the most illustrious history. At one time at the pinnacle of Taoism's influence eight temples, nine palaces and no less than 72 nunneries were present on the mountain.

Notably the Taiqing Palace was constructed at the time of the Western Han Dynasty and is reputed to be one of the most majestic Taoist constructions in China. However in architectural motifs the building resembles the Song Dynasty style, making it atypical amongst Chinese religious buildings.
Occupying a space of three hectares the palace boasts 155 rooms and three courtyards; Sanqing Hall, Sanguan Hall and Sanhuang Hall occupy each of these courtyards, and the halls also open to the exterior through side doors.
The Sanqing Hall, the Taoist Trinity Hall, flanks two minor halls in the middle court which takes the form of a rectangle. Prominent deities are placed within the halls. Facing Sanqing Hall is an immense elm tree, which reaches a height of 15 metres and the mass of branches is said to look like the head of a dragon. Also present is a well known spring which never runs dry.
Tha Hall of Three Gods, Sanguan Hall, is located on the palace's east court. The hall features the shrines of the God of Earth, God of Heaven, God of Water as well as other divinities. One of two Camellia (Naidong) trees rises 3.5 metres high, and its flourishing branches envelop half of the area of the court. This tree, more than 600 years old blooms in the midst of winter with its flowers looking like burning flame.
The Three Emperors Hall, Sanhuang Hall is located on the west court and contains statues of various deities, with an effigy of Huang Di, the Chinese nation's ancestor taking pride of place.
Additionally the palace boasts a multitude of cultural valuables, particularly a number of epigraphs, the work of prominent personages. Engravings made by decree of such rulers as Gengis Khan and Kublai Khan may be seen at the temple.
For the traveller seeking a Qingdao hotel the astute choice is the Copthorne Hotel Qingdao. This convenient Qingdao Accommodation offers modern facilities and attentive service assuring a pleasurable stay.