Situated at the very heart of Sri Lanka is a great rock reaching 200 meters into the sky, 'Sihagiri' later to be known as Sigiriya, became the rock fortress of King Kasyapa in the 5th century AD. This architectural marvel can safely be called one of the most magnificent of the ancient buildings in Sri Lanka and has been named a world heritage site not only for its ingenuity in the construction and historical importance but also for its immaculate layout and stunning beauty.
King Kasyapa after the murder of his father king Dhatusena, built his palace atop this rock also called Remembrance Rock and Lion Rock, as a fortress to protect himself from the wrath of his brother and rightful king, Mogallana. With its many waterways, fountains and gardens researchers now believe it to be more of a palace of pleasure than a fortress. None the less, the 1.6 hectares of land is bordered by two moats and three ramparts and held many defenses against any hostile forces. A complicated network of underground waterways supplies water to ponds and many fountains in the gardens and even to the massive pool carved into the rock at the very top. Some of these are still in working condition and are seen during the rainy season.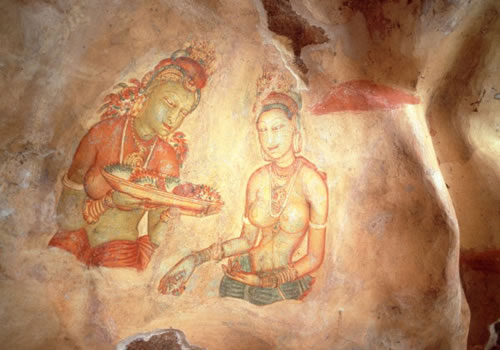 This spectacular Lion fortress may have received its name from the great lion halfway up the rock. The entrance to the main palace is up a flight of steps through a giant lion's mouth guarded by its massive brick paws on either side. Though only the initial flight of steps and the giant paws now remain, they are the remnants of a more glamorous era of Sri Lankan history. Curving along the side of the rock is a three meter high wall coated with a mirror-smooth glaze that has earned it the name of mirror wall. This dazzling piece of architecture holds the writings of thousands of writers and poets who have visited the palace and speak of its magnificence. Though not all of them audible anymore, it has helped numerous scholars study the evolution of Sinhala writing. Another major and unique attraction of the building is the Sigiriya frescos. Close to 500 paintings of beautiful women adorned in flowers and jewels have been painted onto the surface of the rock. Of these heavenly maidens only 22 have survived through time and the era of the palace as a monastery.
A popular destination among tourists, it is not hard to find a good hotel in Sigiriya. Of the many hotels, Hotel Sigiriya is known for its blend of cultural heritage with modern comfort. Offering one of the scenic views of the fortress with a touch of the spice of the locals, it is one of the best Hotels, Sigiriya.