No visit to the Thai capital of Bangkok would be complete without experiencing the magnificent grandeur of the Grand Palace. This majestic complex of buildings is recognized as the most iconic landmark of Bangkok.
Constructed in 1782, the compound served as the monarch's residence, the home of the Royal Court and also the seat of the government for no less than 150 years. At one time, the state departments, the mint and the war ministry were all located at the compound. The Grand Palace's majestic architecture and intricate decorations are considered to be a reflection of the craftsmanship and creativity of the people of Thailand. Even in the present day, the Grand Palace is considered to be the Thai kingdom's spiritual focal point. The palace compound has been designed to present an appearance reminiscent of the buildings of Ayutthaya, the magnificent capital of the Siamese Kingdom which was destroyed by the invading Burmese. As you enter the compound, you will see the Outer Court, which once housed important government offices like the treasury, army and civil administration. The greatly venerated Temple of the Emerald Buddha, Thailand's most sacred shrine, is situated in a corner of the court.
Meanwhile, the grand Centre Court is the location where the King's personal residence and the halls employed for the conducting of state affairs were situated. Visitors are always impressed by the ornate decorations on the exterior of these splendid structures. Not to be missed are the royal reception chambers with their regal ambience. Here you will see the former throne used by the Thai monarchs before the adoption of the Western style throne presently used. The Grand Palace Hall never fails to impress with its resplendent features, as does the splendid Dusit Hall, which may be the most magnificent structure in the compound. Visitors will also be fascinated by the museum found here, which displays scale models, Buddha figures and information relating to the refurbishment of the compound.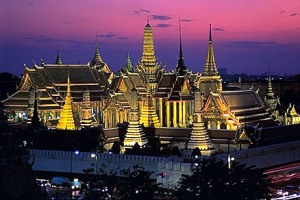 Visitors desiring a Bangkok luxury hotel will find an exceptional choice in the Metropolitan Bangkok. This fine luxury hotel in Bangkok offers sumptuous accommodations and an array of amenities.
Angela Fernando is an impassioned travel writer who composes pieces under the pen name Sumaira Narayan. She loves writing about new and exciting places around the world and hopes to visit them all someday. Google+