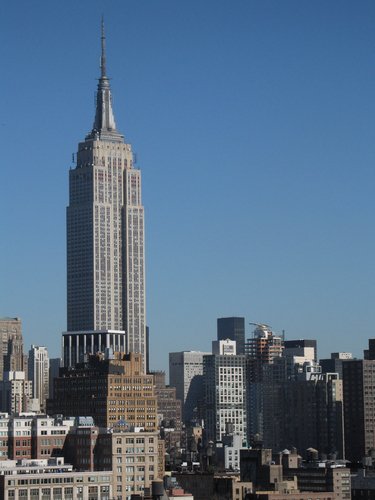 Built on the site of the Waldorf – Astoria, the Empire State Building, in New York is a credit to the resilience and unwavering spirit of the Americans. Construction began on the 17th of March 1930, and in a whirlwind construction frenzy, the building was completed within a year and 45 days. It was the first building to be opened by the pushing of a button from the White House, which lit up the building.
This 102 storey building is 381 meters in height. Together with the art deco pinnacle it reaches roughly 443 meters. Until the construction of the World Trade Centre – North Tower in 1972, the Empire State Building enjoyed the prestige of being the world's tallest building. However it is still one of the tallest buildings in the world. The Building – named after the nickname for the state of New York- has also been conferred with the honour of being a National Historic Landmark.
1964 saw the addition of floodlights to the top of the building. The colours of these floodlights were periodically changed to mark various special occasions – religious, national, sports etc. For instance, blue, red and white lights shone after the bombing of World Trade Centre. When it's time for New York's sports teams' to host home games the relevant colours light up, New York Nicks get blue white and orange etc. In honour of Eid Ul Fitr, the building was lit up in green.
The 86th floor is a large outdoor observation deck and the 102nd floor is an enclosed observation deck. Both these are open to the public for a fee. In fact these floors have gained in popularity through its incorporation in various films, tv programmes and literary works.The Building also plays host to an annual foot race that involves running up 1576 steps- from the ground level to the 86th floor!
This iconic building is a landmark in New York and is a must visit site, especially for first timers in New York City. If the traveller seeks a New York City hotel, and more specifically a hotel in Midtown Manhattan, then the Millennium UN Plaza Hotel New York, with its ultra stylish and modern amenities would be an ideal choice.