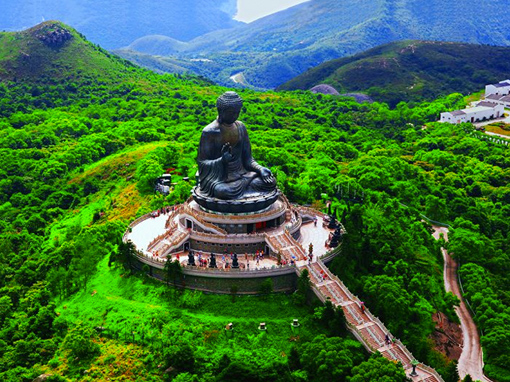 Poised atop a lotus shaped base and towering well above the surrounding mountain range, the serene demeanour of the Giant Buddha statue seems to impart some of its tranquillity to the nearby elements of nature. The largest bronze Buddha statue in the world, harmonizes the grace of nature and the essence of spirituality and is a must visit for any tourist travelling to Hong Kong.
Located in Lantau Island with the lush mountains at its feet, this bronze Buddha statue also called the Tian Tan Buddha is raised upon a lotus base on a three platform altar at the Ngong Ping plateau. The statue was finally completed in 1993 after three years of sculpture and is 34 metres high and weighs 250 tons; it took nearly 250 blocks of bronze and steel combined to support its structure.
It is remarkable how this heavy structure still manages to epitomize grace and serenity which is almost tangible as you view the statue up-close. There is much depth of meaning and philosophy beneath each of the folds, postures and gestures of the statues as well as the elaborate craftsmanship that has managed to portray some of those noble sentiments. From the right hand gesture of the Buddha statue which implies blessings to all living beings to the six bronze statues at its feet depicting devas which stand for six virtues necessary to attain Nirvana, everything symbolizes a deeper and spiritual theme. The Po Ling monastery is also close to the site and is a great place to visit while on the way to view this statue. 
The journey to view this attraction is not tedious and can be made by bus, taxi or by way of the cable car system. There are about 200 steps to be climbed that will bring you on a level to face this magnificent statue of Buddha in Hong Kong.
It is imperative to find a well placed Hong Kong hotel to reside in during a visit to the country as that can definitely enhance your stay. Enjoying a superb location in the Causeway Bay, surrounded by major shopping malls and just across the famous race course, is Cosmopolitan Hotel Hong Kong. With well appointed rooms and plush suites offering spectacular views plus great dining options to choose from, this Hong Kong Island hotel ensures one has a truly memorable stay in the country.