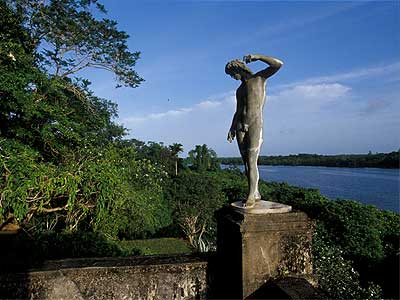 Geoffrey Bawa began his illustrious career in 1957 where he quickly established a name for himself through his breathtakingly contemporary, yet contextually aware designs. He was always attuned to the lay of the land and always kept in touch with his Asian aesthetic sensibilities which led to his rise to the top of his field being heralded as one of Asia's greatest architects. In 2001 he was awarded the Aga Khan Award for architecture; an award held by only three architects worldwide and Bawa being the only non-Moslem to possess the award.
Geoffrey pushed the boundaries of his field and discovered new ways of approaching design leading to his developing pioneering concepts such as "regional modernist" and "sustainable architecture" long before such terms were formally introduced! Yet despite all his past achievements, all of Geoffrey Bawa's genius was expressed in perhaps his most beautiful creation; the Lunuganga garden.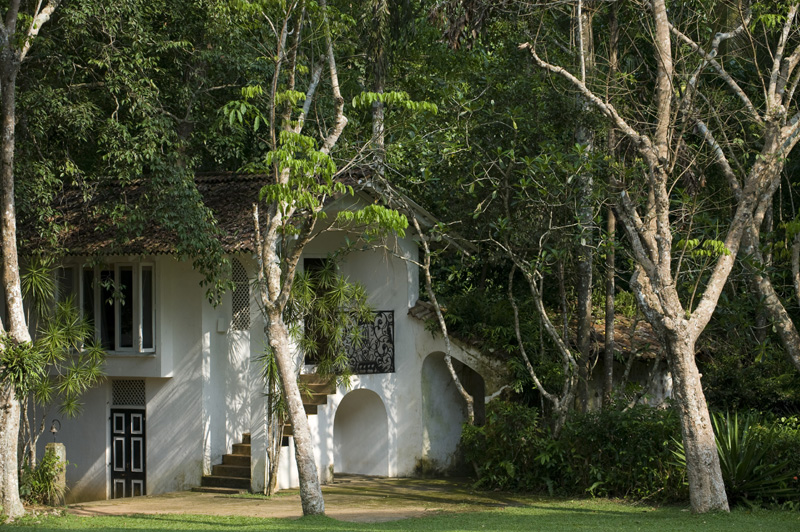 This lovely plot of land resides snug within 2 hills in a headland and extends just beyond the Bentota estuary. The design of the garden may initially appear random or even disorganised, yet there is an underlying and very clever purpose to the position of every piece of flora in the garden. The garden reflects nature's wild and unpredictable beauty and favours greenery with subtly changing hues, textures and smells as oppose to the obvious hues of exotic flowering plants. It almost feels as though one is walking through a disorganised wilderness, but in fact every fern, rock and ornament is carefully placed in order to take every visitor through an unforgettable tour of Mother Nature's mystical beauty.
The garden enjoys manipulating the space through which visitors travel. One minute you will be walking along narrow ramps and paths chauffeured by the lush greenery,  which open up into wide expanse which displays the Cinnamon hill, the lake and the white Buddhist dagoba on the hilltop afar. Visitors' senses will be overwhelmed with this sudden volume of detail and natural grandeur and the eye will shift from statue, to greenery, to lake and finally to sky; in any given order of course. The garden make guests feel as though they are lost in a thick jungle only to treat such claustrophobia with sudden expansive environments which create a pulsating feeling in the mind of the guests.  
The Lunuganga garden is the culmination of Geoffrey Bawa's talents and clever innovations and is both a work of art and a journey though "a civilized wilderness". It is quite possible to go through the garden in a short period of time, but not to take time, explore and appreciate every nook and cranny of the area would be a waste of the toil that went into creating and maintaining this magnificent place. An interesting fact is that locating the garden is actually a bit tricky and would best be handled by experienced professionals. As such, one should look into a Sri Lanka car rental service that has an impeccable record of customer satisfaction. There are few companies that provide Sri Lanka car hire of such excellent standard, and such a company would be Malkey Travel & Tours. With over 30 years in the business and glowing client recommendations, your visit to Geoffrey Bawa's gardens will be assuredly hassle-free.