Tianjin Museum is the biggest museum in the city of Tianjin China. It's a place that houses historical and cultural artifacts belonging to Tianjin. This massive museum which covers a land area of 50000 square meters is locate in the Yinhe Plaza situated in the Hexi district of this ancient city. This building carries unique styles of architecture and interior decoration boasting an appearance of a swan in its full form with winds spread wide open. This structure is indeed an iconic landmark to the cityscape of Tianjin and has attracted many tourists from around the world. The magnificent collections of the museum include ancient fine arts and displays on Tianjin's history. There are over 200,000 relics that are displayed in this magnificent museum.
Among the many relics you would also find jade ware, calligraphy, paintings, seals, bronze ware, ink stone, coins and jaigu. It is a place that no Tianjin visitor would want to miss especially because it is the second prevalent construction in the whole of China the giant swan shape is a fact that has come to the attention of all its visitors and surely a beautiful addition to the many buildings located in the town. This three storied colossal museum sometimes gives the appearance and the feeling of a theatre when you enter giving an opportunity for the passersby to educate themselves about the economy, politics, and social setting of the metropolis. The museum houses a collection of a wide variety of subjects belonging to the history of Tianjin. This is a place where your family and friends visit while you are on holiday or tour to Tianjin and gain much knowledge about the history of this wonderful city.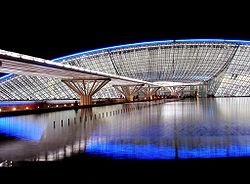 The tourists looking for Tianjin accommodation with much luxury and comfort for a much enjoyed and cherished holiday can try out Somerset Youyi Tianjin which is one of the best out of the Tianjin apartment complexes. This apartment promises a much relaxed and successful vacation in Tianjin China which is a much visited city in China. All fun loving holiday makers can take a break by going to the museum for a change.
Umanga Kahandawaarachchi is a passionate travel writer who writes under the pen name, Maggie Tulliver. Her field of writing covers a wide array of content and articles related to travel and hospitality industry. Google+