Tipped to be the country's foremost institution on Malaysian culture and its imprint in the Singaporean story the Malay heritage Centre is an epicentre of knowledge and insight located within Sultane Gate. Tucked away in an expansive property of more than 8000m2 the venue is located inside what was once known as Istana Kampong Glam and first opened to the public back in 2004 after an extensive restoration project funded by the Malay Heritage Foundation.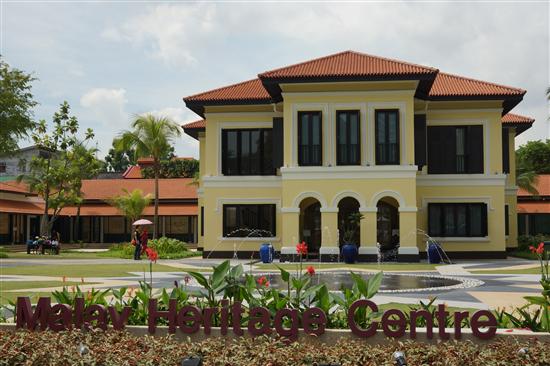 Situated in a setting full of history the outer grounds of Sultane Gate contains towering Gelam trees as well as a life-size replica of a Bugis boat dubbed a Prahu as well as Pinisi markers denoting historical facts regarding the Bugis community and their commercial ventures. The Malay Heritage Centre is located at the heart of the grounds and houses engaging exhibits showcasing the proud history of the Malay people and their legacy in Singapore throughout the centuries. Employing multimedia technology, ancient relics and dioramas the centre's main objective is offering visitors an in-depth look at Malay culture and its components as well as its overreaching contribution to the progress of Singapore. Organizing annual and quarterly cultural programs the centre is also instrumental in hosting workshops as well as fund raising events to maintain the cost of the centre's upkeep.
Some of the current exhibits now on show include the Call for Images showcase which will run from 1st February to 30th June this year. Exploring Malay medicinal traditions that employed flora and fauna the exhibition also hopes to uncover conventional trades that dealt with the promotion of a healthy lifestyle. Yang Menulis or the They Who Write display on the other hand which occupies Gallery 1 and 2 of the MHC in an exhibit that deals with the role of the Penyalin or scribes in the publishing industry during the advent of mechanical printing technology.
Divided in to 6 galleries the two floors of the MHC also contain artefacts that were contributed from the Malay community in the country as well as those from the Singaporean national catalogue. The structure in which the MHC is housed in is an artefact in its own right as the traditional Malay palace is a timber masterpiece on stilts. The upper area of the structure is known as the "panggung" which served as the main living quarters of the palace while the bottom floor was used to house a play area, business place and storage facilities in the Kampong Glam era.
Travellers in search of five star Singapore serviced apartments should look no further than Ascott Raffles Place Singapore for all their accommodation needs. Offering guests a luxury serviced apartment Singapore counts among its finest living spaces this stylish rest provides exclusive residences for holidaymakers and business travellers.
Thanuja Silva is a travel writer who writes under the pen name Auburn Silver. She has a passion for fashion and a deep interest in admiring new and exotic attractions around the world. Google+