Constructed during Phuket's golden era in the last century spurred on by its booming tin industry Old Phuket Town is a true heritage district with sprawling edifices to boot. Bursting at the seams with its own unique personality and flare this idyllic corner of the holiday Mecca is an area that is truly worthy of exploration as its legacy as the heartland of Phuket's former glory days is far from over as the venue still attracts hoards of visitors interested in its past and present. Littered with breathtaking stately mansions, charming shop houses, illustrious museums, ornate shrines and temples the captivating environs of this historic district is as intriguing as the vacation capital's sandy beaches and nightspots.
The location's main highlights include the stunning Sino-colonial mansion known as Baan Chinpracha and the Blue Elephant Governor Mansion which are both conveniently situated on Krabi Road while a leisurely stroll around Dibuk and Thalang also yield Sino-Portuguese style mansions which were built and occupied by wealthy tin barons in the last century. Sino-Portuguese style shop houses are also found around Old Phuket Town's commercial heart down Thalang where they still serve as quaint restaurants, cafes and boutiques. Displaying classical Chinese architectural leanings the shop houses also showcase European building elements with shady and covered canopies set up along the road for al fresco diners.
Those with a love of all that glitters can head down to the Amulet Market where one can find charming and exquisite amulets that are popular among the area's Buddhist devotees. Culture buffs can also explore the former Chinese school turned museum that is the Thai Hua Museum which is the area's foremost authority on Old Phuket Town's history and legacy. Other points of interest include Soi Rommanee which is a former red-light district turned restaurant and cafe hub.
Religious highlights in Old Phuket Town are of course the Wat Mongkol Nimit with its vibrant glass tiles and Thai architecture and the Put Jaw and Jui Tui Temples which are some of Phuket's oldest temples built over 200 years ago.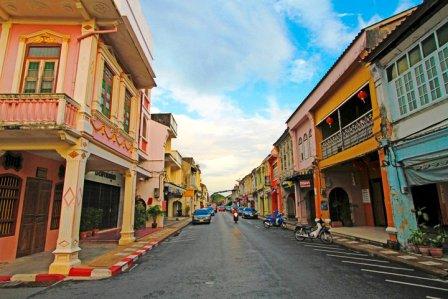 Travellers in search of a luxurious Patong beach resort will find no finer alternative to the Millennium Resort Patong Phuket. Offering guests the best in contemporary amenities this elegant Phuket resort pulls out all the stops when it comes to vacationing in style.
Umanga Kahandawaarachchi is a passionate travel writer who writes under the pen name, Maggie Tulliver. Her field of writing covers a wide array of content and articles related to travel and hospitality industry.