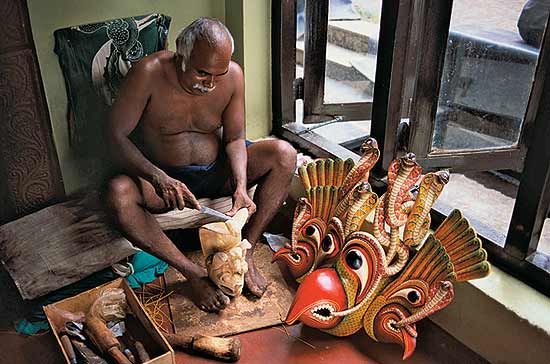 Conveniently located near the beach holiday Mecca of Hikkaduwa lies one of Sri Lanka's most revered craft villages. Known as Ambalangoda this quiet seaside town has been producing some of the island's iconic masks and puppets for centuries with traditional know how passed on from generation to generation. Created by hand using local wood materials and ancient practices that has survived the test of time the skill and technical prowess of the Ambalangoda artisans is well documented in the island's craft legacy. Frequented by locals and tourists alike the entire town is a veritable mask factory producing exquisite objet d'art that are collectibles and cultural pieces found nowhere else in the world.
Traditional masks which are used in cultural ceremonies to ward off evil spirits are the prime attraction along Ambalangoda's street side mask vendors and carvers. The hand carved and hand painted masks are made of Kaduru wood that are found near paddy fields and are used for dramatic purposes as well. The cobra demon mask for example which is known as the Naga Raksha mask is used in the demon dance and features exaggerated features with piercing eyes and a snake-like tongue surrounded by teeth resembling fangs. The crest of the head is adorned with cobra hoods creating a picture that inspired both awe and fear. Used in local exorcism rituals the masks are worn by trained dancers that dance in a trace, embodying the spirit of the devil himself.
Visitors can catch a glimpse of these dance forms at the Bandu Wijesooriya School of Dancing which stages weekly folk dance recitals with Kolam dances as well as popular Indian dance forms thrown in to the mix. Visitors can observe mask makers manufacturing the wooden wonders at the town's Mask Museum which also showcases traditional masks of gods, villains, demons and heroes. Tourists can also purchase masks as souvenirs at the many mask shops and souvenir kiosks all across Ambalangoda.
Travellers on the lookout for special Sri Lanka tour packages this holiday season should look to Shanti Travel Sri Lanka for all their travel needs. Providing some of the finest holiday packages Sri Lanka has to offer this renowned tour operator pulls out all the stops when it comes to island vacations.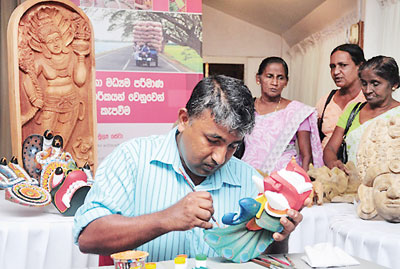 Thanuja Silva is a travel writer who writes under the pen name Auburn Silver. She has a passion for fashion and a deep interest in admiring new and exotic attractions around the world.