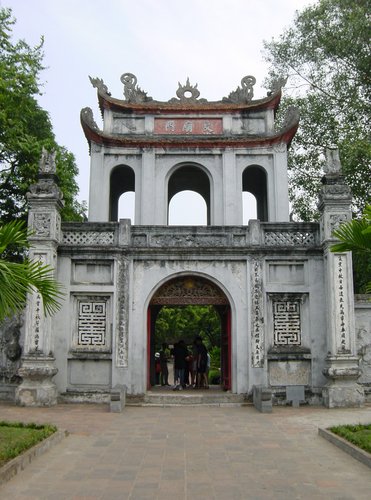 The city of Hanoi in Vietnam is one that is steeped in history be it either ancient or modern history. In recent times it has become popular among history buffs looking for relics of the Vietnam War and the Communist Era which followed it. But the city had been the centre of spirituality and learning in Vietnam for many years before that. Buddhism is an important part of Vietnamese life and has its influenced art and literature greatly. Many works of literature before the French arrival were based on Buddhist scripture and teachings.
Thus, the Temple of Literature of Confucius in Hanoi is a must see destination for every traveller. The temple was constructed almost a thousand years ago in 1070 AD in honour of Confucius and his sages. Despite many renovations and additions being done to the temple in the following years it has maintained its original architectural style to a great degree.
The temple is significant as the first ever university in Vietnam was established within its premises in 1076, the objective of its establishment was to educate the royalty, the elite and the bureaucrats in areas such as politics, religion and literature. It functioned unhindered for more than seven centuries until the Imperial Academy was built and the varsity was moved there.
The courses at the university placed special emphasis on learning literature. Historians have revealed that the courses here were remarkably similar to those of modern universities, with students studying for periods of three to seven years and having a simple test each month.
Much of the architecture and the layout here is in the traditional Chinese style, as the temple was modelled on a similar structure in Qufu the hometown of Confucius. The temple features a large lake and five internal courtyards. The entrance to the complex is by way of a large gate, which presents an imposing façade. Several pathways from this main entrance run the length of the entire temple.
Being such a well preserved historical monument, the Temple of Literature in Hanoi is one that should be visited by every tourist.
Serviced apartment Hanoi
such as the Somerset Hoa Binh Hanoi is located close to the temple.
Hanoi Apartments
near Daeha Business Center are an ideal accommodation option for those on an extended visit.