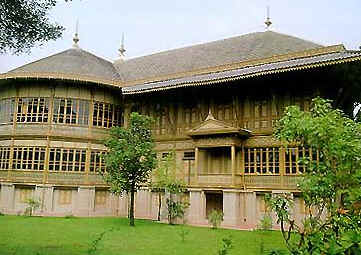 Bangkok, Thailand's famed capital, has a legacy stretching back over 200 years. Originally a minor commercial town, it gained prominence when it was made the capital of Siam in 1768. In European colonial times it gained importance as a significant strategic hub. Today Bangkok is one of the world's best known cities, and a huge magnet for tourists attracted by its cultural and historical legacy, shopping opportunities and well publicized nightlife.
Vimanmek Palace, constructed entirely out of teakwood, was built under the command of King Rama V in 1897 to be his summer palace. Since the king had lived abroad in Europe, the palace has a strong European influence in its interior and furnishings. It was later dismantled and reassembled at its present location, Dusit Gardens. After a series of renovations the palace was neglected until 1982, when Queen Sirikit obtained the royal sanction of King Rama IX to restore the palace, making it a museum to document the reign of Rama V and celebrate the heritage of the Thais.
Accordingly the entire complex of buildings at Dusit Gardens has been renovated, including the main mansion as well as the buildings originally constructed for the king's consort and other wives. The gallery of memorabilia includes items from the royal court, historical relics and objects of Thai cultural significance. The throne room, some of the bedrooms and bathrooms has been restored to their original condition.
The Abhisek Dusit Throne Hall, designed in distinctly Arabian style, formerly used for ceremonial occasions like welcoming ambassadors from other countries, has been renovated and reopened. The throne hall now houses a gallery of traditional Thai arts and crafts.
Another exhibit of note is the display of vehicles used for the transport of the royal family and court officials, from European-made coaches to less elaborate locally produced vehicles. Royal palanquins and carriages complete the exhibit.
A long list of Thai royalty of an earlier era made the compound their home, and there are various buildings dedicated to their royal inhabitants. Memorabilia to commemorate the various royals continue to fascinate both locals and foreign guests.
Bangkok accommodation such as serviced apartments in Bangkok would be ideal for the foreign visitor. Compass Hospitality offers a diverse array of accommodations such as serviced apartments, hotels, resorts, clubs and condominiums to delight any visitor.