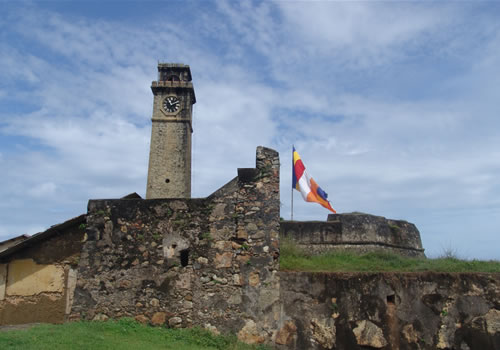 For the ultimate experience of the Colonial wonder work on the island of Sri Lanka, the Dutch Fort is a must visit destination. The thick dark walls mightily protecting the city inside, is evidence of the strength and power these colonies instilled upon this beautiful island. Although it was more or less restored, the Galle Fort and the Ramparts still stand strong, well preserved and maintained. A site for the crashing waves and a site for unparalleled beauty, the Galle Fort is indeed a crowd puller regardless of whether you are local or tourist.
Driving through the many narrow crisscrossing lanes of the Galle Fort will surely take you back in time. It is like being in an old English movie. The many houses and buildings sitting on paved roadways still retain the old charm and keep intact the symbolic architecture of that historical era in Galle. There are simply so many interesting buildings to see around the region. The Dutch Reformed Church, the Old Dutch Hospital, the Dutch Government House, Residence of the Commander are to name a few. To learn more about all these buildings and the long history of this city stop by at the National Maritime Museum near the Old Gate. The fort houses so many of the rich artifacts discovered during the excavation of the city. It gives you a feel of the people of the city as they would have lived their lives during the Colonial reign in Galle. All of the buildings date from the 17thy century onwards and are located in very close proximity to each other. Just a stroll around the Fort region and you would have seen the best part of the historical remnants of the city. The Fort in itself was first built by the Portuguese in the 1588. However, when the Dutch arrived, they changed it completely and it is their work that still stands today. 
So visit this Golden site of the nation that the UNESCO has declared a world heritage site and relive this vivid era in the history of the Nation. In addition to the colonial treasures, Galle is a beautiful, relaxing city. Stay at the Jetwing Kurulubedda and enjoy one of the finest experiences in Sri Lanka Hotels. This is one of the most popular Galle Resorts that combines the rustic ambience of authentic Lanka with luxury and comfort like no other.