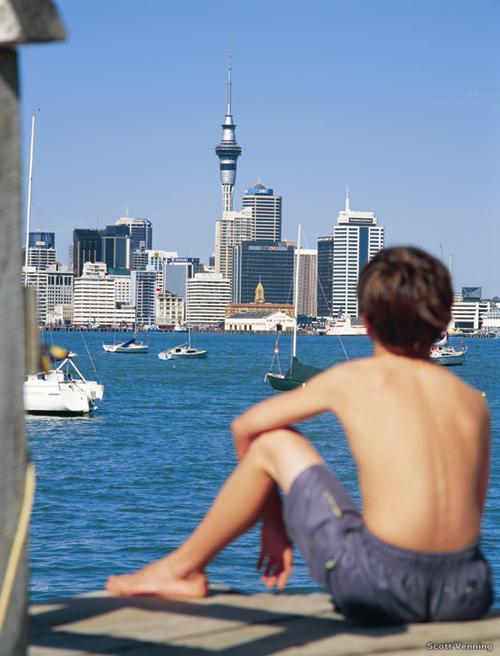 The Waitemata Harbour in New Zealand is most certainly one of the most interesting harbors in Auckland. Its pristine location, deep rooted history, breezy winds and hundreds of docked ships make this place an informative and an exciting adventure that one must undertake when visiting New Zealand.
The Waitemata Harbour is located on the Eastern Coastline of the country and is the gateway to Auckland by sea. Throughout history it was the primary channel through which materials flowed in and out of Auckland and was also popularly known as the Auckland Harbour. Waitemata gives stunning views of the vast stretches of sea before you. The name itself is Maori for 'sparkling waters' and once you step into this harbour you will realize that it stands absolutely true to its name. Occupying a total of 70 square miles the Waitemata Harbour stands as the link from the main port of the city and Auckland waterfront to the expanses of the Pacific Ocean and the Hauraki Gulf. The design of the Waitemata Harbour is such that it is well protected from Pacific Storms by the Rangitoto Island, Waiheke Island and Aucklands North Shore.
When visiting the harbour choose a nice sunny day to stroll about and explore the many attractions located in the vicinity. The Aucklands Harbour Bridge is quite interesting to walk across and note that it crosses the harbour at its narrowest point. At the East of the Southern End of the harbour you can find the Marinas of West Haven along with the suburbs of the famous Freemans Bay. There are other prominent Wharves and Ports throughout the harbour capable of taking gastronomic ships that weigh over 500 gross register Tons. Conclude your tour of the harbour by enjoying the ferry services offered here to the Auckland CBD.


Auckland's attractions are simply exhaustive to mention and takes you through all levels of excitement, awe and adventure. Take your time in touring the city and don't miss out on the fantastic Auckland Hotels this city has in store. Hotels in Auckland are generally inviting and comfortable but for that epitome of hotel experiences choose the Langham Auckland.