For the briefest moment in the island's long history, Yapahuwa served as the capital of Sri Lanka during the latter part of the 13th century. It was King Bhuvenakabahu who moved the capital to Yapahuwa from Polonnaruwa in 1272 to prevent the Sacred Tooth Relic from falling into the hands of invading Dravidians from South India. A fortress was built atop the Yapahuwa Rock, which is a ninety metre tall boulder, which also served as the palace. Following the king's death in 1284, the Sacred Tooth Relic was captured by the Pandyans from South India and the capital of Yapahuwa was abandoned. The Tooth Relic was eventually recaptured by the Sri Lankan king Parakkramabahu III, who brought it back to Polonnaruwa, but by that time Yapahuwa had already faded into obscurity.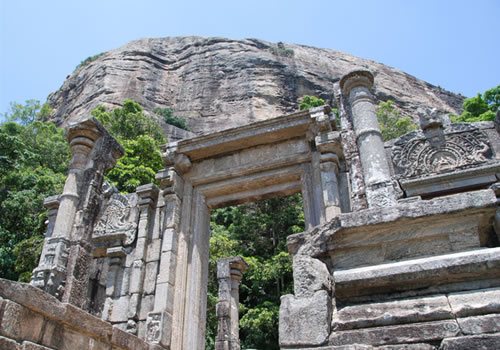 The citadel in Yapahuwa resembles the Sigiriya fortress in many ways, and is a marvellous piece of Sri Lankan architecture. Visitors have to climb an ornamental staircase to reach the top of the rock, where you can find the remains of an ancient stupa. There is also a shelter here that was once used by Buddhist monks. The purpose built Tooth Temple is found at the end of the third staircase. The fortress is full of beautiful engravings and sculptures, many of which are quite famous. In fact, a design featuring the Yapahuwa Lion stone sculpture was used in the country's former 10 rupee note. 
Yapahuwa is a part of the Wayamba Province and is found midway between Anuradhapura and Kurunagala, some four kilometres southeast of the town of Maho. It is an interesting place to visit, offering a glimpse into the island's rich history. The very walls of the fortress resonate with thousands of untold tales that archaeologists are still trying to piece together. Other interesting cultural and historical sites in the country include the Sigiriya Fortress, the Temple of the Tooth and the Galle Fort.
Tourists who have had their fill of Sri Lankan history should drop by some of the island's famed beaches. For a terrific beach experience try
Marawila hotels
like Club Palm Bay Marawila. Ranked among one of the best
beach hotels Sri Lanka
has to offer, it provides guests with an amazing seaside location and friendly service.