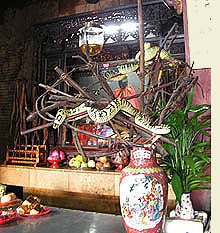 Penang in Malaysia is home to an unusual mix of Chinese residents originating from Canton as well as India. This unique mix has brought about a culture that is a blend of Confucianism, Taoism and Buddhism.
Along the way to the airport lies an ancient temple with a history stretching all the way back to 1850 and is perhaps the only one of its kind in the world. It is colloquially known as the snake temple. However the original name was the Temple of the Azure Cloud which was in honour of Penang's beautiful skies. The temple is built on land donated by a former British resident – David Brown- who was cured of an incurable illness through the healing powers of the deity Chor Soo Kong.
Chor Soo Kong was a spiritual man looking for spiritual enlightenment. During his stay in the jungle he gave shelter to snakes – which are revered as powerful creatures holding various powers depending on which religion one believes in. When the temple was built in honour of Chor Soo Kong, the snakes that entered the temple are believed to have come of their own accord and never left.
The snakes' resident at the temple now has greatly diminished in number of late, as a result of the urbanisation of their surrounding natural habitat. Also there are currently only pit vipers resident at the temple. These creatures can be found wrapped around pillars and beams all over the temple and look to be in a stupor – said to be induced from the heavy incense smoke wafting through the prayer halls. It is said that they are de-venomed, however it is advisable that they are not picked up.
A corridor alongside the temple houses even more vipers in cages and a snake pool at the back filled with fruit trees is also home to a fair number of snakes.
Devotees from across the world visit the temple regularly especially during the deity's birthday. Entrance is free and you can opt to have your picture taken with snakes draped around you for about 30RM. If you are looking for a Penang Hotel and more specifically Tanjung Bungah Hotels to base yourself from during your stay in Penang, the Copthorne Orchid Hotel Penang can be an ideal choice for you.