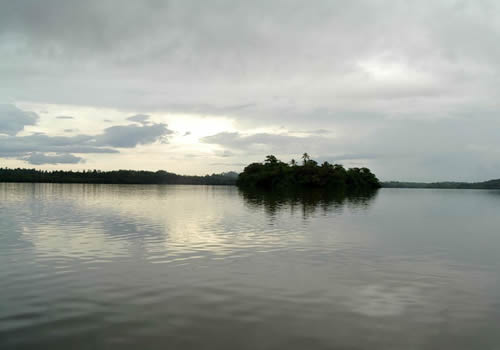 Sri Lanka has countless places to go for wildlife and nature enthusiasts and located in the southern coast famed for its golden sand beaches is Koggala; not just a beach, as the inlands offer several other attractions among them including a river and a lake.
Koggala Lake is not very well known amongst the mainstream tourists, but if you are into nature and want to experience tropical nature in its most unsullied form, Koggala Lake is perhaps one place that should not be missed on a trip down south in Sri Lanka.
It is dotted with a large number of islets, which are attractions in themselves. There are also mangroves that can make a boat ride along this water world a wonderful experience that will make the explorer feel one with nature in its calm and tranquil surroundings.   For the enthusiastic bird watcher, the lagoon area is a perfect spot to catch birds such as egrets and herons in action either early in the morning or in the evenings. What is more there are water monitors, a diverse variety of flora and of course locals engaged in fishing and prawn harvesting that can be captured on cameras as all these activities in the area provide picture perfect moments and unique experiences.
There are also several well known restaurants close by that serve delicious seafood dishes which one must try out while traveling around this area. There are many locals who take visitors on motor boat rides or even boat rides on catamarans during which travellers can hop on to some of the tiny islands along the lagoon and the lake.
Providing convenience in reaching many of the island's attractions, Malkey Travel & Tours is a Sri Lanka car rental company offering customer service of the highest quality. With one of the most modern and largest fleets in Sri Lanka, the company presents sri lanka car hire options for self driven or chauffer driven car rentals. Contributing to the development of the Sri Lanka travel industry, they offer a range of vehicles from luxury, premium and general cars to buses and vans.