While restaurants in Tangalle are many and pretty great for the most part, you can also dine at your hotel's restaurants like the one at Anantara Peace Haven Tangalle Resort, there are many options outside the hotel you can check out as well while indulging in luxurious comforts of your resort. Read on to know about some of them.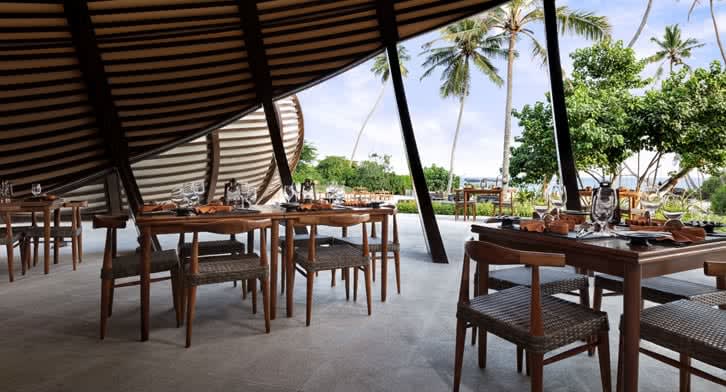 The Tuna & The Crab
Located inside the Galle Fort itself, in the Galle Dutch Hospital premises, this once colonial-era hospital has now been converted into a high-end shopping centre with restaurants that cater to your every need. As the name suggests, it's signature dish is its crab dish, a Sri Lanka style curry that is just divine. If you're looking to satisfy your craving for crab without curry, you can try their crab linguine, which is just as good!
Fortaleza
The coral and lime wall alone is a good reason to dine at this restaurant, also located inside the Galle Fort. A truly international menu with food ranging from local to Italian to Singaporean, this restaurant retains the original colonial flavour preserved in the Fort.
Café Ceylon
Although not actually on the beach itself, the sands of the Kabalana beach are close enough to be seen from the open front of the café. Once more, it specializes in the seafood side of cuisine but also has enough international fare to keep it interesting. Located in Kabalana, Ahangama, this is another tourist hotspot.
Talpe Beach Club
Situated on the beach front, the Talpe Beach Club is another lace from which you can spy turtle breeding grounds. With a swimming pool and an open area restaurant, you can take a dip in the ocean before you sit down to have a meal while you enjoy the magnificent sunsets of the island nation of Sri Lanka. With a menu that caters to a family meal, with international and local cuisine alike, this is a visitor's favourite!
Fritzjames Stephen is a travel writer, who writes content based on the myriad of experiences and indulgences that the world has to offer travellers across all walks of life. Google+