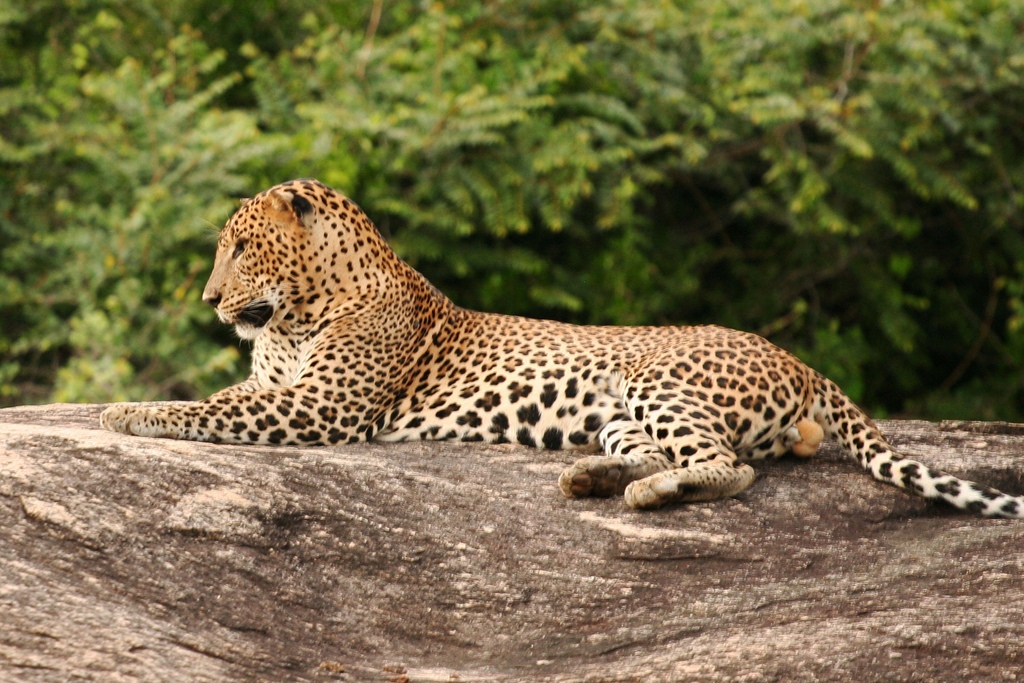 Spread out across an impressive 378 sq. miles the Yala National Park is not only the country's second most expansive national park but also the island's most popular nature reserve. Declared a wildlife sanctuary at the beginning of 1900 the venue also enjoys the rare privilege of being one of the island's first national parks as well. Renowned as a key conservation area for Sri Lanka's aquatic bird population and Sri Lankan elephants the park is equally well-known for its extensive wildlife heritage and collection of flora.
Located on the south-eastern fringes of Sri Lanka the parkland encompasses several ecosystems within its folds including semi deciduous forests, marine wetlands, monsoon forests, freshwater wetlands and even golden, sandy beaches.  Known to house one of the highest leopard densities on the planet the park also serves as a verdant sanctuary to 44 mammal species, 215 bird varieties of which six are endemic to the emerald isle. As a collective of five blocks the Yala National Park encompasses the Kumana National Park, Nimalawa Sanctuary, Yala Strict Nature Reserve and the Katagamuwa and Kataragama sanctuaries.
The floral heritage of the sanctuary includes a whopping 300 species which includes the endemic Glenniea Unijuga plant species which is only found in Yala's wetlands. Medicinal plants such as Salacia reticulate, Asparagus racemosus and Munronia pumila are also among the parkland's main floral species which are as varied as its diverse topographical elements. Frequented by bird lovers the world over Yala's endemic bird population includes Black-capped Bulbuls, Sri Lanka Grey Hornbills, Barbets, Jungle fowls, Brown-capped Babblers and Sri Lanka Wood-pigeons while over 90 water birds are also known to inhabit the park's wetlands. Rare bird species the likes of Lesser Adjutants and Black-necked Storks have also been spotted in the enclosure which is invaded by thousands of waterfowls during the monsoons.
Home to nearly 25 leopards, the park's elephant herds contain up to 350 gentle giants. The endangered species roaming the landscapes of Yala include the Wild Water Buffalo, Sri Lankan Sloth Bear, Sri Lankan Elephant and the Sri Lankan Leopard. Inhabited by nearly 46 reptile varieties the park's coastline is also frequented by all five of the planet's endangered sea turtle varieties.
Tourists in search of exciting Sri Lanka tours will be well-advised to contact Jetwing Travels for all their tour bookings in the island. As a well established tour operator in the Sri Lanka travels and tours industry the Jetwing Travels Group offers a wide range of tour packages to suit every type of traveller.