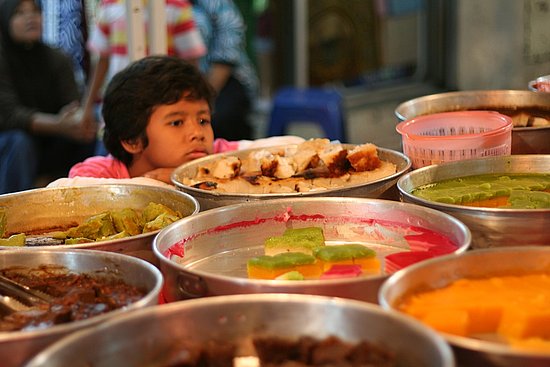 In the heart of Masjid Jamek station, walking distance from Petaling Street, there is a city within a city. Here fresh aromas of typical spicy cooking combined with the bustle of busy shoppers browsing through goods and Indian dishes make this the 'Little India' of Malaysia.
Although Indians are the smallest ethnic community in Malaysia, they are by far one of the most active communities. While plenty of famous outlets are run by Indians, Indian culture has also somewhat integrated and influenced Malaysian tradition. The history of Indians in Malaysia goes back many years when they first occupied the country as barter traders and even labourers. Over time they settled and became part of the Malaysian community. Little India is found in a rather historical area which dates back to over a century ago. Its name 'Jalan Masjid India' is derived from a mosque built in 1870 for the Indian Muslim population who were rapidly settling there as the tin mining industry was booming. The entire Little India area is centred around the district's mosque.
Shopping is transformed to an exciting event in Little India where you can find all the Bollywood inspired Indian accessories and 'bling' you crave for! From shalwar kameezes to lenghas to anything Indian, one can definitely find it in Little India. The sarees in particular are especially attractive, from thick silk, beaded to sequenced, you can find it all in this shopping paradise. If you want to look authentically Indian there are plenty of accessories to add to those heavily worked outfits such as thick necklaces, large earrings and sparkling bangles in almost any shade that comes to mind.
Enjoy feasting on delightful Indian snacks like samosas and gulab jamun while browsing through this cultural shopping hub. Do not forget to stop over and savour delicious and authentic south Indian delicacies at the array of reasonably priced cafés that are lined up on the streets. Whether eating tasty Indian bread or savouring biriyani (rice and curry dish) your taste buds are in for an exotic and gastronomic adventure!
Those looking for accommodation in the city can stay at a Kuala Lumpur service apartment. One such serviced apartment Kuala Lumpur is Seri Bukit Ceylon Residence Kuala Lumpur, which offers travellers a perfect place to unwind, relax and tour the city.