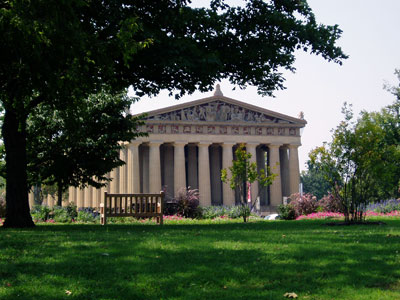 Nashville, the capital of Tennessee and the seat of music, arts and education in the south has a reputation of being the home of many prestigious universities. This combination has earned the city the moniker "the Athens of the South". It was as a nod to this that the Parthenon replica was built in Centennial Park housing 42 foot sculpture of Pallas Athena, the Roman goddess of wisdom and learning.
Centennial Park is a large urban park located near Vanderbilt University in downtown Nashville. It was given its current name in 1897, when as a state fairgrounds, the park hosted the Tennessee Centennial and International Exposition. Among the temporary buildings put up for the fair was a detailed full-scale replica of the Greek Parthenon. All the buildings were dismantled after the exhibition except for this one, leaving a landscaped area and sunken gardens around a small artificial lake, named Lake Watunga. It was only afterward that the area became a recreational park.
However, years after the exhibition, the plaster Parthenon began falling into serious disrepair. It was then the public voted to replace their beloved symbol with the permanent steel and concrete edifice that is seen today.
The Nashville Parthenon houses a statue of Pallas Athena, commissioned to the renowned local sculptor Alan LeQuire by the city. The polychromatic reconstruction involved careful scholarly research of what the original Athena statue must have looked like in ancient Greece before Athens fell to ruins. Covered in gold leaf, and standing at a height of 42 feet, it is the largest indoor sculpture found in the Western hemisphere.
Today, the Parthenon has been converted into an art gallery and museum housing a permanent collection of 63 paintings by 19th and 20th century American artists. It also hosts a variety of exhibits and shows. In the summer local theatre productions perform classic Greek plays for free on the steps of the Parthenon or inside.
Visitors eager to see this tribute to Greek art while enjoying the best of Nashville's artistry would do well to find accommodation at a downtown Nashville hotel. The Millennium Maxwell House Nashville is the only music-themed Nashville hotel located near the Grand Ole Opry and the Opry Mills Shopping Center.