In New York City, the United Nations Headquarters is a unique complex that stands out among the city's skyscrapers. The building has been used as the headquarters of the United Nations ever since it was completed in 1950.
Overlooking the East River on the east side of Mid-town Manhattan is the UN building in Turtle Bay. The location of the UN is considered as international territory although it is in the precinct of New York.
The United Nations Headquarters is constructed on 17 acres of land which was purchased from a real estate developer at the time, by the name of William Zeckendorf.
The New York firm of Wallace Harrison bore the major portion of responsibility for the architecture of the building. Since the United Nations Headquarters has extraterritoriality status, which is normal for embassies, this allows some UN rules to override the laws of the city but the laws of the UN do not provide protection or a safe haven for crimes that take place within that area.
An interesting point to note is that the UN Headquarters remains under the authority and laws of the United States. A few members of the UN staff have diplomatic immunity and as such cannot be indicted by local courts unless the immunity is withdrawn by the Secretary-General.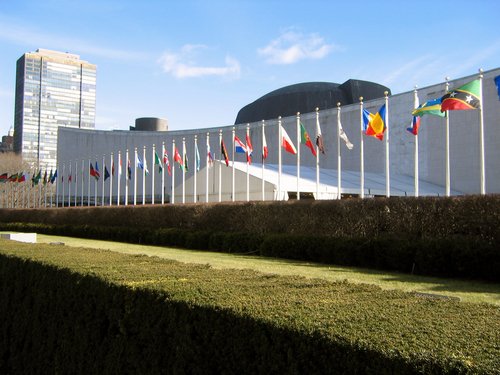 In addition the UN has an art collection which is similar to a small museum. Here, visitors could get a glimpse of art works and sculptures donated to the UN by its member states.
For those first time travellers to New York a stay at a New York city hotel is a must. Especially those who would like to have a peek at the UN building, will value the convenient location of the Millennium UN Plaza Hotel New York which is situated on Manhattan's East Side.