A country that is ever on the move, Singapore is one of Asia's most developed nations and is at the forefront of cutting edge technology and entertainment. Set amidst towering skyscrapers, the country's dynamic cityscape also boasts a fascinating old world charm. There is much to see and do for young and old alike at this modern metropolis and visitors are spoilt for choice when it comes to deciding which attraction or activity to select first. Combining a fun sightseeing journey with a visit to one of the country's most popular attractions, a ride on the Singapore Cable Car should definitely be on your "must do" list when holidaying here.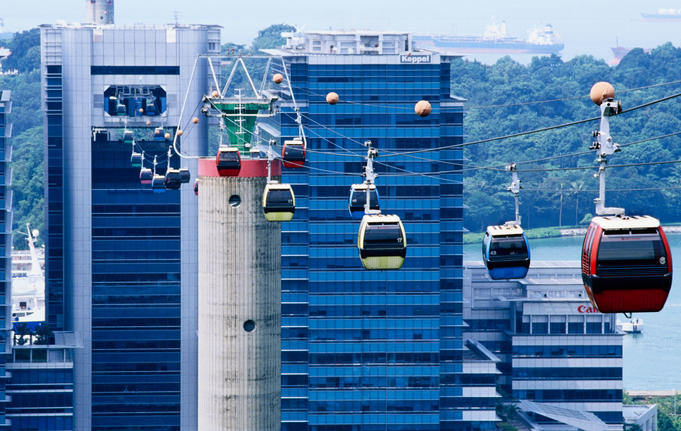 Providing a link between Mount Faber which is located on the main island to the popular resort known as Sentosa Island, the Singapore Cable Car takes passengers on an unforgettable journey across Keppel Harbour. Inaugurated in 1974, this scenic transport system provides a unique perspective on the surrounding cityscape that can be enjoyed by the entire family.
Those looking to access the cable car can catch the MRT to the HarbourFront station and proceed from there. The modern cabins with their transparent windows offer breathtaking 360° vistas and provide amazing views of the harbour and Sentosa a well. Those travelling in the evenings can view the striking sight of the setting sun, while the city slowly but surely comes alive with light and activity.
The Singapore Cable Car also gives you the chance to enjoy a one of a kind fine dining experience as you soar above the cityscape and reach for the stars! Ideal for couples looking for a romantic meal amidst awe-inspiring views, Sky Dining is a concept that lets you share intimate moments in the luxurious comforts of your very own cabin.
Those looking to live it up in style when visiting the city and enjoy the very best in contemporary comforts should look to stay at 5 star hotels Singapore such as The St. Regis Singapore. Located in the bustling downtown area, it is one of the best luxury hotels Singapore has to offer and provides easy access to the very best of the city be it entertainment, culture or dining.