The well-known Telaga Harbour Park is a one-of-a-kind facility, which features a sophisticated and picturesque harbour complex situated on the western coast of the island of Langkawi. This modern facility features a comprehensively equipped marina for sailboats and yachts. It also boasts a classy shopping complex as well as a boardwalk with a number of upscale bars and restaurants.
Formerly, the site was only a modest fishing village, but it has been completely transformed into a state-of-the-art marina with a complete array of berthing services. Additionally, the stylish Perdana Quay at the venue is a contemporary harbour-side complex, which features an elegant boardwalk with an array of waterside cafes, shops, and bars. These facilities and attractions have made Telaga Harbour Park a magnet for both tourists as well as yachters. In the evening hours, when the area is brilliantly illuminated, the park looks magnificent and inviting.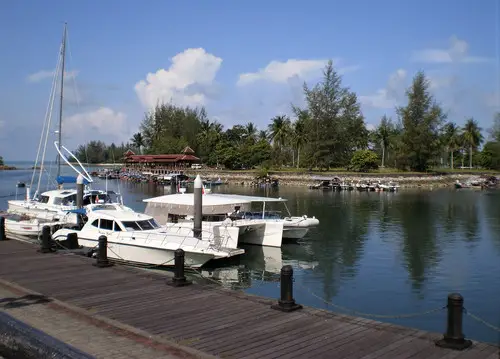 Today, the marina services a multitude of locally based as well as visiting craft, especially yachts of all kinds including the extravagant super yachts. Presently, the park has evolved into a self-sufficient township and in fact has the distinction of being the sole such community in the whole of the region. Many visitors come to the park to enjoy some invigorating sailing, while others are merely sightseers. The International Water Festival held in the early part of the year provides an opportunity for visitors to involve themselves in numerous games and water-themed activities.
The waterside cafes and restaurants are classy establishments offering a variety of cuisine such as Russian, Japanese, Italian, Arabic, Western, and Continental specialties. Many tourists come to the park to dine at these establishments and to socialize with the experienced yachters and seamen who often frequent the venue. Telaga Harbour Park is always an interesting place to visit, even for the general sightseer, with its unique ambience and marine-themed atmosphere. This is an attraction that will prove captivating for almost any visitor.
One of the best ways to enjoy the charming outdoor ambiance of the park is from a stylish 5 star hotel in Langkawi that promises to take care of all the details whilst you embark on your sightseeing adventures. An option to consider is the The Westin Langkawi Resort & Spa whose luxury interiors and gracious hospitality make it a quality Langkawi beach resort to host your stay here.
Uditha Dharmawardhane is a travel writer who writes under the pen name Roland Lefevre. He specializes in creating features on leisure as well as business travel destinations across the globe. Google+