The Than Bokkhorani National Park is an all in one destination that ensures you have a fabulous time in every way. It is located in the county of Au Luek which is around 45 km from the Krabi Town. The park covers a total of over 120 square km and is a mosaic of natural attractions and entertainment facilities. So plan a day out to the Than Bokkhorani National Park and come back thoroughly satisfied.
The park is well known for its Limestone Mountains, mangrove forests and intriguing little islands and caves. Some of the must see attractions in the park include the Than Bokkhorani, Than Lot Nua, Than Phi Hua to, Tham Phet and the Mu Ko Hong. The Than Bokkharani is a collection of pools that is found in a beautiful forested location which makes a spectacular setting that the park is named after it. Here sparkling water falls into a large pool from a tall cliff which in turn overflows into smaller pools. It makes an ideal spot for bathing and swimming. The Tham Lot Nua along with the Tham Lot Tai are two very intriguing caves in the park. If you a want a larger version of these visit the Tham Phi Hua to, literally translated to big headed ghost cave that is actually part of a limestone hill. This cave has an intriguing history and an array on interesting paintings all over the wall. The caves can be easily accessed by boat from the Bo tho pier. The Tham Phet is also a cave but has a unique interior which sparkles when a spot light is shone giving it the name 'Diamond Cave'. Then lastly don't miss the ever entertaining Mu Ko Hong. This collection of limestone islands makes fantastic spots for enjoying a dip in the waters or for cosy little picnics. These islands boast fine coral reefs of differing levels which is spectacular to explore. There are a number of boat and canoe services that takes you to these islands from Au Nang which is about an hour away.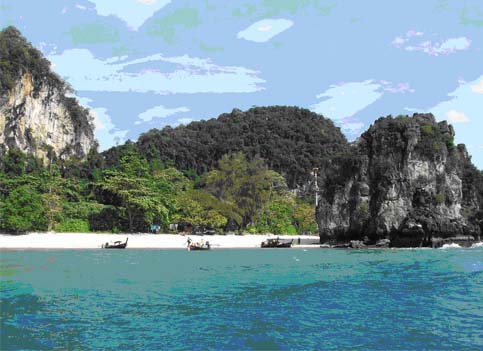 After a fun filled day at the park wind down at one of the most popular Krabi Resorts in the city called the Anantara Si Kao Thailand. This Krabi Resort Hotel has all the state of the art amenities that makes a stay in this hotel a cherry on the top for your holiday in Krabi.