Perched atop a massive rocky outcrop and looking fierce and dominant, even in its solitary aloofness, the Al Jalali Fort continues to maintain its rigid but complacent countenance as if to scare away potential invaders with one glance of its grim, exterior. Standing sentinel or more like a watchful armed forces commander with a hawk eye and tall, broad and intimidating stature, this admirable fortification of the Muscut bay has done its duty well for a long time together with its contemporary and twin, the Mirani fort which is only a short distance away.
The fortification originally built by the Portuguese to guard this entrance to the harbour later underwent considerable additions to become what it is today. Only accessible via a steep rocky climb from the land side, the fort served as a prison as well for some time and today its function is a museum that serves to narrate the heroic tales of history and mystery as much as it could to an awe struck audience.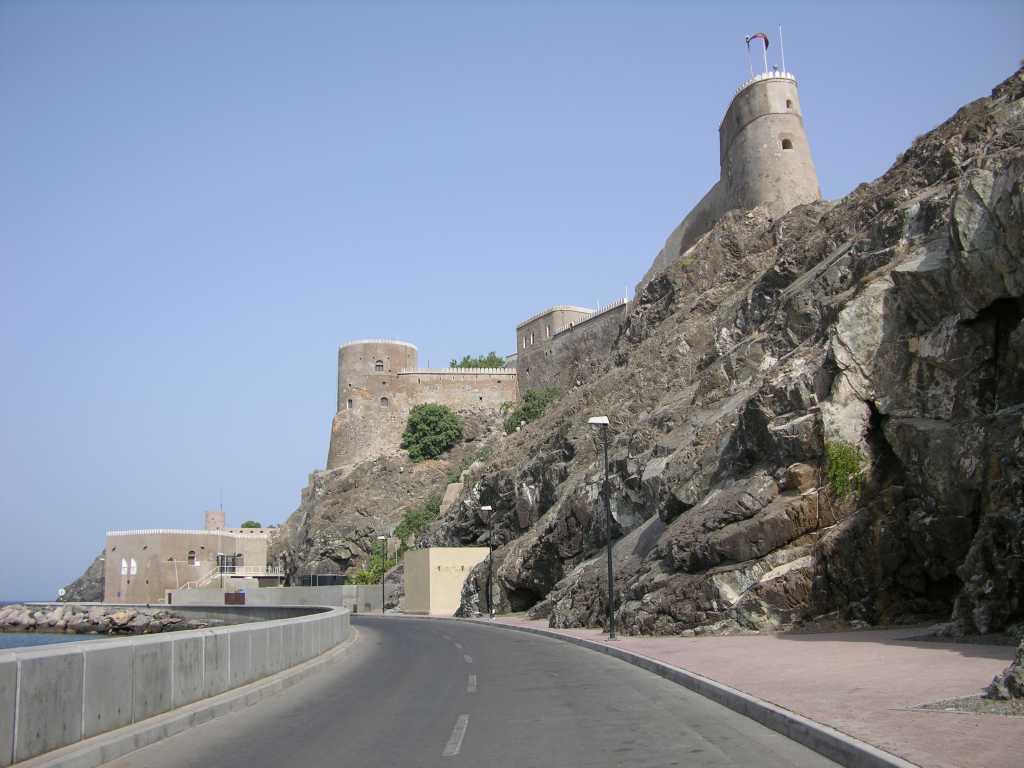 The fort has an equally formidable wall in its perimeter while a huge inscription in Arabic greets one at the foot of the tall, steep rocky stairway at the back. From the top of the tower and the terraces, the view over the Muscut bay as well as the old city is ravishing. One can also view the other twin –'Mirani fort' as well as the Palace of his majesty from here. The fort today holds its treasures of the firearms including canons upon their sturdy mounts and gun ports used for firing together with maritime equipment and material such as maps and illustrations that give significant in-depth into the marine life at that era. The interior of the fort is just as intriguing as its exterior, with winding mazes of staircases, a locked room with thick bars that served as a prison as well as a contrasting cheery courtyard in the middle together with a cluster of Badam trees and the sound of gurgling water that add more life and vivacity while softening the stern ambience of the ancient fort.
Step into a renowned hotel in Muscat to enjoy a quiet and peaceful retreat after a day of admiring history at the fort. Ruwi Hotel Muscat enjoys a strategic location together with excellently appointed rooms and suites, an excellent array of dining options and so many modern conveniences as to make it an attractive prospect for business and pleasure travelers alike. Ranked quite high among the well known Oman hotels, this is one place that will keep you enchanted throughout your stay and enhance your vacation in this wonderful and historic city.
Jayani Senanayake is a writer who dabbles in travel and all things exotic. Under the pseudonym of Calliope Sage, she writes of the allures that must simply be discovered. Google+