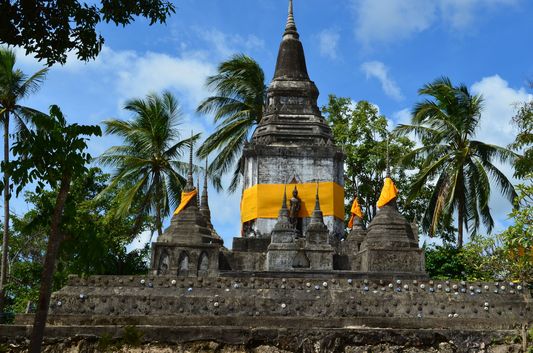 Among the fourteen or so big and small temples and monasteries in Koh Phangan is Wat Phu Khao Noi, on the south western part of the island near Thongsala the island's main town. It is said to be the temple established by the first Buddhist priests to have set foot on the island more than 600 years ago.
Wat Phu Khao Noi means temple of the small mountain, an apt description considering that is where the temple is, located on a hill overlooking the forest covered hillsides and the ocean in the distance. Although a lot less elaborate than the temples in big cities of Thailand, the quiet dignity of the temples on Koh Phangan is quite adequate for the task of providing spiritual guidance to the people of the area. Visitors are welcome to view the ceremonies and daily rituals that take place at the temples particularly on Buddhist holidays which will provide a rare glimpse of the spiritual traditions in Thai life. They can even join meditation classes offered by some temples.
The premises of Wat Phu Khao Noi have been constructed following ancient guidelines and feature designated areas for the monks and devotees, a bell shaped main chedi with several small stupas around it, a shrine hall with ancient images of the Buddha, a newer hall for sermons with a gold painted statue of the seated Buddha and several other similar statues around it and a new bell tower. The quiet and serene surroundings of the temple and the beautiful views from atop the hill attract quite a few visitors. They can meet the monks in the mornings, before the noon meal, as the afternoons are devoted to religious tasks and even receive blessing from the head monk and have a conversation as he speaks a little English.
Rasananda Koh Phangan Villa, Resort & Spa is all about having a terrific beach holiday. Located right on one of the well known beaches on the island, just a few step away from the white sand and azure sea, this one of unique Koh Phangan hotels offers the best deals for a holiday in the tropics. Experience the fabulous facilities of one of the prominent Koh Phangan resorts that include a collection of contemporary and comfortable villas and suites with their own plunge pools, magical surroundings that will never get stale, delightful Thai cuisine to keep the taste buds titillated, well designed spa therapies and an endless list of invigorating activities.